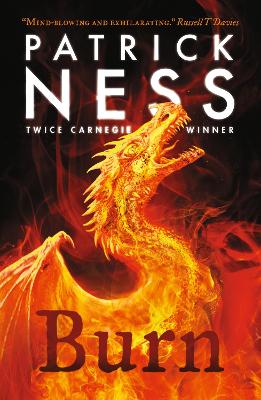 By Author / Illustrator
Patrick Ness
Genre
Fantasy
Age range(s)
14+
Publisher
Walker Books Ltd
ISBN
9781406393972
Format
Paperback / softback
Published
06-05-2021
Synopsis
An all-consuming story of revenge, redemption and dragons from the twice Carnegie Medal-winner Patrick Ness.

"On a cold Sunday evening in early 1957, Sarah Dewhurst waited with her father in the parking lot of the Chevron Gas Station for the dragon he'd hired to help on the farm."  This dragon, Kazimir, has more to him than meets the eye. Sarah can't help but be curious about him, an animal who supposedly doesn't have a soul but is seemingly intent on keeping her safe from the brutal attentions of Deputy Sheriff Emmett Kelby.

Kazimir knows something she doesn't. He has arrived at the farm because of a prophecy. A prophecy that involves a deadly assassin, a cult of dragon worshippers, two FBI agents - and somehow, Sarah Dewhurst herself.

From the bestselling author of the Chaos Walking trilogy comes a heart-stopping story of fanaticism, hope, bravery and impossible second chances, set in a world on the very brink of its own destruction.
"A clever, complex and completely engrossing story." The Times. "Ness shows that although monsters exist in every world, many wish to overcome them; and even in the smoking ruins of civilisation, there is room for hope." Guardian.
Reviews
Eileen
Patrick Ness is a writer who refuses to be pigeonholed and this mind-bending, genre-defying, completely gripping work of genius re-imagines the Cold War - but with dragons!
In Burn, Sarah Dewhurst's father hires a dragon to help on their farm and thus save the family from bankruptcy, but the dragon, Kazimir, is a Russian Blue dragon with a difference who will stop at nothing to keep Sarah safe from the appalling Deputy Kelby and from the deadly assassin who is heading her way as part of an ancient prophecy. This assassin, Malcolm, has been sent by a cult of dragon-worshipping Believers who want to rid the world of any human threats to dragon dominance, but Malcolm himself is being pursued by FBI agents…and the world is teetering on the edge of its own destruction.
Only Patrick Ness could conjure up such an original, almost outlandish plot premise, set in an alternate 1950s American reality, and carry it off with such skill and panache. The world-building is completely credible, the danger real, the dialogue smart and the characters complex, genuine and believable. Sarah herself is a typical teenager and reluctant hero; witty, engaging, but nevertheless determined when tasked with saving the world. Even the assassin, Malcolm, is redeemed by his regrets about what his life could have been and the surprising possibility of love.
The writing is intelligent and beautiful to read, perfectly-paced and packed full of narrative shifts, plot twists and breathtakingly cinematic set-pieces to keep the reader constantly on edge. Huge themes are seamlessly interwoven: racism, homophobia, prejudice, representation, rhetoric, religion and fanaticism as well as the arms race and discussion of the morality of war. But there is friendship too, bravery, redemption and, very importantly, love and hope.
Like Gaiman and Pratchett, Ness writes fantasy so well it reads like realism and Burn is no exception, an excellent introduction to his unique style for new readers and completely satisfying for long-term fans.
384 pages / Reviewed by Eileen Armstrong, school librarian
Suggested Reading Age 14+
Other titles