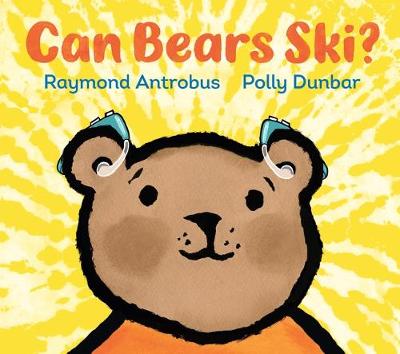 By Author / Illustrator
Raymond Antrobus, Polly Dunbar
Genre
Picture Books
Age range(s)
3+
Publisher
Walker Books Ltd
ISBN
9781406382624
Format
Hardback
Synopsis
The debut children's book from Ted Hughes award-winning poet Raymond Antrobus that tracks a father-and-son journey into the discovery and management of deafness. Boy Bear cannot hear Dad Bear coming to wake him up in the morning but he can feel the floor vibrate with his heavy footsteps. He can only grasp little bits of what his teacher says to him at school. He cannot catch what his friends are laughing at. And, all the time, Boy Bear keeps hearing the question, "Can Bears ski?" What does it mean?
With the support of Dad Bear, Boy Bear visits an audiologist and, eventually, he gets hearing aids. Suddenly, he understands the question everyone has been asking him: "CAN YOU HEAR ME?" Raymond draws on his own experience to show how isolating it can be for a deaf child in a hearing world. But through his lyrical and moving words, matched with Polly's stunning imagery, he also shows how many ways there are to communicate love. With a solid network, Boy Bear will find his place in the world.
Reviews
Elen
What a beautifully told story of a father and son bear, about deafness. We meet young Bear and learn about his world - how he senses his father coming because the bed rumbles; how he feels Dad Bear calling him to breakfast through the shaking banister; and how everyone keeps asking him, "Can bears ski?" The child reader will start to realise that something isn't quite right in young Bear's world; a child who struggles with hearing will realise it a lot sooner.

This is such a useful picture book for introducing deafness to young children, especially if a child in a group is deaf, but it's also wonderful to see a deaf child take centre stage in a picture book. The expressions on the little bear's face are perfect, and I loved watching the close relationship between him and Dad Bear, and also Dad Bear trying to contain his frustration when his child doesn't get everything right, and his concern when he realises there is a problem.

Children will giggle when they realise what 'Can bears ski?' should actually sound like. Definitely a book to have on library shelves, and to share widely.

Picture book / Ages 3+ / Reviewed by Elen Green.
Suggested Reading Age 3+
Other titles