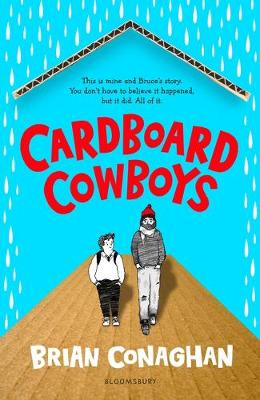 By Author / Illustrator
Brian Conaghan
Genre
Friends and family
Age range(s)
9+
Publisher
Bloomsbury Publishing PLC
ISBN
9781526628602
Format
Paperback / softback
Published
15-04-2021
Synopsis
Multi-award-winning author Brian Conaghan's first book for 10+ readers is a future classic brimming with humour and heartEven though I found him living in a house made of cardboard, Bruce is a massive legend. FACT. So this mine and Bruce's story. You don't have to believe it happened, but it did. All of it.Nobody at school can see past Lenny's size to the person within. So when lessons get too tough, Lenny always goes to his bench to think. At least there no one can see him. Then one day, midway through lobbing his empty can of Irn-Bru into the canal, he's stopped by Bruce. Bruce lives in a cardboard home hidden away by the banks, and he doesn't approve of kids messing up his front lawn... But a bumpy start soon gives way to an unexpected friendship - and an epic road trip - that will change both of them for life...
Reviews
Jan
It was refreshing to read Brian Conaghan's Cardboard Cowboys because it tackles the issue of negative body image from a boy's point of view. We are inside the head of Lenny, who is a loner, not necessarily from choice. All the angst and anxiety that he feels is expressed in a very authentic voice, as well as some terrific haikus. Lenny is unhappy at school, feels clumsy because of his size and guilty about his part in his older brother's fate. His family life is painfully, realistically described, as both his parents seek to come to terms with the trauma that has befallen their family, in their own clumsy fashion.
It has a tight plot because there are a limited number of characters for the reader to get to know and the setting is restricted to just a few locations. Although Bruce is not a family member, he becomes a pivotal person in Lenny's life. Through the character of Bruce, a cool dude, we are introduced to the subject of homelessness, with respect and empathy.
Cardboard Cowboys is set in Glasgow, and is full of local dialect and cultural references. It is a well-constructed story, told in the first person, with its own voice, yet relatable to all readers. I found it enlightening to be taken to a part of the UK that was unfamiliar to me. There is pathos and comedy woven into a story of family ties, friendship and personal growth. I felt that its only weakness was the too neatly tied up ending, otherwise a very enjoyable book that I would recommend to Y6/7 readers.
352 pages / Reviewed by Jan Blagden
Suggested Reading Age 11+
Matthew

- Age 11
Lenny is the main character in Cardboard Cowboys, starting on the next big step in his education journey but bullied because of his size. His self-deprecating view of himself troubles the reader as we see a turbulent home life impacting so strongly on Lenny's mental well-being. The chance meeting with Bruce, a local 'homeless' man, throws his world upside down as he finds motivation, belief and a sense of belonging with the mysterious man.
Despite Bruce and Lenny's age difference, they strike up a unique and deep relationship which leads them both on a emotional rollercoaster culminating in an ending to the book which leaves even the hardiest reader fighting back the tears. The heart-warming relationship of Lenny and Bruce tugs at your heart strings as the story enters the latter stages.
Brian Conaghan's unique style of writing, when putting a character's thoughts on paper, is probing but hidden at times, allowing the reader to draw their own conclusions and solutions to Lenny's struggle. Children in Key Stage 3 would benefit from reading such a book as it directly tackles the social pressures of becoming a young adult but more importantly, how everyone has their own hidden struggles.
Huge links could be made in PHSE. on the importance of creating or finding positive well-being, as well as showing that age is no barrier when it comes to how we can deal with loss in our lives. It would be a superb choice of book to read as a class, allowing children from all walks of life to show the vulnerability of those around them.
352 pages / Reviewed by Matthew Lappin, teacher
Suggested Reading Age 11+
Lucy
Cardboard Cowboys is the first middle grade book from author Brian Conaghan and it absolutely does not disappoint. Lenny blames his size for everything. He thinks his mum and dad don't love him anymore and that they blame him for what happened to his older brother, Frankie. He gets picked on and bullied at school so his coping mechanism is to bunk off and sit on his favourite bench, which is when he meets Bruce who is living in a cardboard house next to the canal. The pair strike up a friendship which takes them on an extraordinary road trip which will change both of them for life.
Although you begin to draw your own conclusions about the whereabouts of Frankie, you gradually learn the story of where he is and how he came to be there. We also eventually learn the heartbreaking story of Bruce and how he ended up living by the canal, but neither story is dealt with in a mawkish and overly-sentimental way, which would have been so easy to do.
This novel has all the elements of Brian Conaghan's trademark genius. A genuinely unique and authentic voice in Lenny both in his 'stream of consciousness' dialogue and in his actions. I loved the way that Lenny's actions would be second-guessed by the Angel, Devil and Frankie! The inclusion of Lenny's haikus was also a lovely touch and bought an authenticity to the story as another of Lenny's coping strategies. An absolute legend of a character in Bruce, too - the way that the adult point of view is put across is truly brilliant and ultimately necessary to make the story genuine and believable.
Although Frankie did wrong it was circumstance that meant he ended up where he did, and I couldn't help but root for him and am so glad he was made out to be a loving brother who highlighted the importance of talking about how you feel. All the other supporting characters; Mrs Hick the Headteacher, Trisha Woods the supportive friend and Shona, Grace and Liam and the rest of the cast of bullies who make Lenny's life miserable are all perfectly formed with not a misplaced one amongst them.
Recommend this book to everyone! Cardboard Cowboys highlights the power of friendship and of being unique. One of my favourite lines from the books is 'Who wants to be identical when you can be singular?' It's an emotional story but the ending will envelope you with such a warm hug of a feeling that you will be smiling for hours.
352 pages / Ages 10+ / Reviewed by Lucy Georgeson, school librarian
Suggested Reading Age 9+
Jo
Cardboard Cowboys is honest and brave. It tells the tale of Lenny, a boy bullied because of his appearance and who, as a result, is reluctant to go to school. Lenny carries a lot of weight with him and not just his physical size; he has a heavy burden of guilt that is hinted at and slowly revealed throughout the story.
Lenny is a nice lad. We see what it is like to be him, to be an ordinary boy growing up, trying to fit in, wanting to be loved, liked and most importantly, forgiven. On one of the days when Lenny seeks refuge at the canal side rather than enduring the horrors of school, he meets up with Bruce. Bruce is also a loner, another one of society's misfits. He's also considerably older than Lenny and the problems that this could cause are openly and honestly dealt with. Both Lenny and Bruce have stories to tell and histories to confront and their friendship allows them to deal with their pasts and to help each other to go forwards into the future.
The unlikely friendship that is forged between Lenny and Bruce is truly heart-warming. Bruce speaks the truth to Lenny and helps him to see himself as he really is, yes, he's overweight but he's also talented, wise and caring. Together, Lenny and Bruce solve problems, hatch plans, confront fears and deal with issues that have hung over them like black clouds. With Bruce's encouragement and nurturing, Lenny begins to shrug off the negativity and self-loathing that have burdened him for so long. You can't help yourself from inwardly cheering as Lenny begins to believe in himself and to lift his head up high.
This is a great book. It is not overly sentimental, but it is uplifting; it isn't action-packed, but it is gripping. I liked the truthfulness of the story telling and the credibility of the characters. There are moments of poignancy and tenderness but there is also subtle humour and a sense of fun. The backbone of the story is the journey of Lenny and Bruce: their absconding and subsequent long coach journey but also the journey of their hearts as they deal with the issues that have been allowed to linger for far too long. 
Cardboard Cowboys is a no holds barred reality story which will have you smiling as you quickly become friends with a pair of unlikely cowboys.
352 pages / Ages 10+ / Reviewed by Jo Clarke, teacher
Suggested Reading Age 9+
Other titles