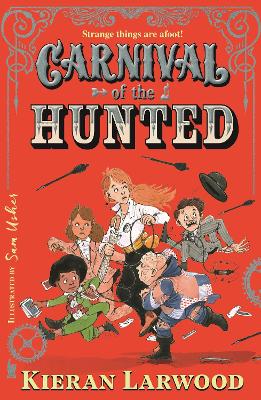 By Author / Illustrator
Kieran Larwood, illus Sam Usher
Genre
Mystery & Detective
Age range(s)
9+
Publisher
Faber & Faber
ISBN
9780571364527
Format
Paperback / softback
Published
07-07-2022
Synopsis
The first figure raises his crossbow, tilting his head to pinpoint the exact position of the thing in the bushes. It has stopped running now, and is muttering something. Some kind of prayer, a call for its mother, its father: anyone who might help it.
Something sinister is going on in the stinking slums of London. Sideshow acts are going missing . . . men wearing animal masks and eye goggles are hunting them down and killing them for sport. But who are this fiendish Hunters' Club? And what is the reason for their cruel game?
Sheba the wolfgirl and Pyewacket the witch's imp know all about life in a sideshow. But now they are the Carnival, private investigators working to help unusual people like them. Teaming up with new recruits half-cat Inji, her extraordinary brother, the armadillo-like Sil and Glyph the psychic, it's a race against time . . . to track down the mask-wearing villains, before anyone else comes to harm!
Reviews
Clair
Carnival of the Hunted is the second in the carnival series by Kieran Larwood and was every bit as good as the first book. I felt that it was written in such a way that it could be read as a stand-alone novel as although there were references to the first book and some of the same characters followed through, this is a very different mystery to solve.
Set back in time in the Victorian London slums, sideshow acts are going missing and there is a rumour that they are being hunted down and killed for sport. Sheba the wolf Girl and Pyewacket have set themselves up as private investigators with the help of the waifs and strays on the streets of London. It falls to them to solve the mystery of who is behind the masks in the Hunter's Club. We also get to meet some new characters this time. There is Inji who is half-cat and her brother, the armadillo-like Sil and Glyph who is a psychic and can crack any safe but uses a set of cards to speak as he is mute.
This is a page-turning, exciting read that has been beautifully written by Kieran Larwood and illustrated by Sam Usher. The writing is very descriptive, which makes it easy to transport yourself to the sights and smells of Victorian London. I loved the notes section in the back of the book which gave a little snippets of history. There is a lesson to be learned about the treatment of people that are perceived to be different in society and I think this would make it a great class read. It will certainly appeal to those that love a good adventure story or mystery to solve. The characters are very unique and I was rooting for Inji and Pywacket straight away.
352 pages / Reviewed by Clair Bossons, school librarian
Suggested Reading Age 9+
Other titles