Casander Darkbloom and the Threads of Power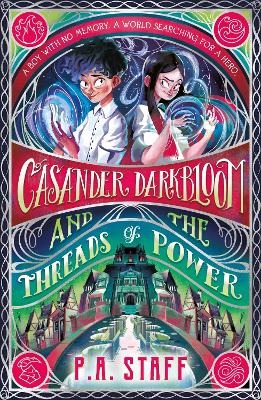 By Author / Illustrator
P. A. Staff
Genre
Fantasy
Age range(s)
9+
Publisher
Walker Books Ltd
ISBN
9781529506280
Format
Paperback / softback
Published
02-11-2023
Synopsis
The first in an extraordinary middle-grade fantasy series that takes the traditional "chosen one" narrative and flips it on its head. Think Nevermoor and The School for Good and Evil, but with a thrilling twist!

A boy with no memory. A world searching for a hero...  Casander Darkbloom has no memory, lives outside a curiosity shop, and experiences random surges of uncontrollable energy in his limbs. When he inexplicably brings a stuffed raven to life, he unravels a strange and thrilling magical world. A world waiting for Cas to save it. 
Cas is the Foretold, the one prophesied to defeat the malevolent Master of All. Under the protection of Wayward School, Cas must learn to master his magical abilities. But, as he soon discovers, all may not be quite as it seems - and Cas will need to take control of his own destiny if he is to find the strength to fight the powers of evil.

Spectacular and imaginative, this thrilling fantasy novel celebrates difference and how what makes us unique is also our greatest strength.
Reviews
Donna
The opening chapter of Casander Darkbloom and the Threads of Power grabbed me in such a way that I read the first half of the book in one sitting! I couldn't wait to get wrapped up in Casander's journey.  This first chapter sets the scene for the whole book and makes the latter parts of the book come together in such a way that it blows your mind!
Can you imagine waking up with no recollation of what happened yesterday? Then this happening every single day? Not knowing if you have any family, any friends, any history? This is Casander's life. He sleeps outside Mrs Crane's Shop of Even Curiouser Curiosities; he doen't know for how long or why. All he knows is this is the place where he wakes up every morning. Cas is a boy who has an uncontrollable, involuntary thrashing, jerking motion of his right leg; his 'funny leg'. This leaves him immobile for a few moments. The author's note explains her rare neurological movement disorder - Paroxysmal Kinesigenic Choreoathetosis, which she called 'her funny leg'. As she explains, 'very few of us grow up normal'.
Following an incident inside the shop one day, Casander's life is turned around. He is taken to Wayward School where his relationship with a group of friends - The Abnormies - which includes a girl called Warrior (determined, breaker-of-rules, full of life, limited ability to stay focused); wheelchair-user, Paws (who has the ability to move through animals); Fenix (who has a burn smell of burnt coals and smoke) and develops into something much more.
This is a must-read for fans of J.K. Rowling's Harry Potter, A.F. Steadman's Skandar books, fantasy, boarding school settings and, mystical creatures. The twist in this book was not expected but thoroughly enjoyed, which leaves me waiting in anticipation of the next in the series.
384 pages / Reviewed by Donna Ritchie
Suggested Reading Age 7+
Jennifer
What a delight the first book in this mesmerizing, magical new fantasy series is! In Casander Darkbloom and the Threads of Power, the reader steps into a whole new world that unfolds impressively around them and into an adventure that celebrates how marvellous and unique every individual in the story is.
Author PA Staff has a movement condition and has proudly and sensitively given her readers young characters who, whilst dealing with classic epic themes of good versus evil, are also resilient, accepting and find strength in their own exceptional differences. Throughout the story, there is fantastic, warmhearted wealth of positive representations as we met Casander Darkbloom, Warrior, Paws and Fenix -  all misfit "Abnormies" at the Wayward School for Most Prestigious Others.
Cas, a homeless, unloved boy with no memory, is plucked from the normal world and plunged (literally, via the river Thames) into an alternative existence through Wayward to the Balance Lands. Here, it appears that Cas may be the Chosen One and have a destiny to no longer be unknown and destitute but to be the most powerful magician of this new world.
The story is fantastical, imaginative and built from layer upon layer of rich, evocative vocabulary that fills the reader's minds with sweeping, cinematic scenes and intricately, minutely detailed images. From the imposing fortress of the Wayward School with its sky high tower and moat, to the quirky and whimsical town shops such as The Diddley Squattery (selling only useless items like chocolate teapots), there is magic and amazing, unbelievable and extraordinary sights, sounds and characters everywhere you turn.
There are familiar scenes and storylines for this magical 'good vs evil' narrative, of course; the grand school, the unusual shops and strange, possibly dangerous school lessons with an array of peculiar teachers. The Chosen One, who may save the world, pitted against a malevolent Master who plans to take powers from all of the Others. These are the anchors that fans of this genre will look for and marvel at and they are all written so well and freshly in this book.
The heart of the story is its young band of loyal, bold, diverse and inspirational characters. Cas and his "funny leg" with uncontrollable movements but with great energy within; Warrior, who creates illusions that come to life but cannot read as the words jump on the page; Paw in her wheelchair, who can release her mind and soul to move as one with animals. This is a group that the reader can root for, empathize with and want to be part of.
This first book sparkles with wonder and a fast, thrilling plot that takes so many twist and turns - there are some brilliantly startling, jaw-dropping revelations that I didn't see coming at all. Also, talk about leaving the reader wanting more…. The last few chapters simply heighten the tension, the unanswered questions and they leave the fate of the main characters still to be explored.
384 pages / Reviewed by Jennifer Caddick, teacher
Suggested Reading Age 9+
Other titles