Check & Mate: From the bestselling author of The Love Hypothesis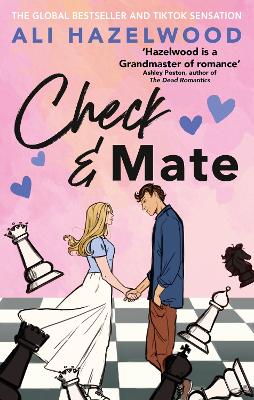 By Author / Illustrator
Ali Hazelwood
Genre
Romance & Relationships
Age range(s)
14+
Publisher
Little, Brown Book Group
ISBN
9781408727614
Format
Paperback / softback
Published
07-11-2023
Synopsis
In this clever and swoonworthy new novel from the New York Times and Sunday Times bestselling author of The Love Hypothesis, life's moving pieces bring rival chess players together in a match for the heart.

Mallory Greenleaf is done with chess. Every move counts nowadays; after the sport led to the destruction of her family four years earlier, Mallory's focus is on her mom, her sisters, and the dead-end job that keeps the lights on. That is, until she begrudgingly agrees to play in one last charity tournament and inadvertently wipes the board with notorious 'Kingkiller' Nolan Sawyer: current world champion and reigning Bad Boy of chess.

Nolan's loss to an unknown rookie shocks everyone. What's even more confusing? His desire to cross pawns again. What kind of gambit is Nolan playing? The smart move would be to walk away. Resign. Game over. But Mallory's victory opens the door to sorely needed cash-prizes and despite everything, she can't help feeling drawn to the enigmatic strategist...

As she rockets up the ranks, Mallory struggles to keep her family safely separated from the game that wrecked it in the first place. And as her love for the sport she so desperately wanted to hate begins to rekindle, Mallory quickly realizes that the games aren't only on the board, the spotlight is brighter than she imagined, and the competition can be fierce (-ly attractive. And intelligent... and infuriating...)

This novel is suitable for both young adult and adult audiences.
Reviews
Grace

- Age 15
I binged this book, its characters and plot add up together to make the perfect romance. Check & Mate is written from the perspective of Mallory Greenleaf, a girl struggling to support her family and who holds a vow to never play chess again. That is, until she enters a small tournament and meets Nolan Sawyer. From the moment these two meet their lives become an battle of chess pieces and love but the question is, who will win? I enjoyed every page of this book and recommend it to any romantic or chess lover; if you are a fan of the Queen's Gambit series on Netfix, you will definitely enjoy this book as much as I have.
368 pages / Reviewed by Grace
Suggested Reading Age 14+
Other titles