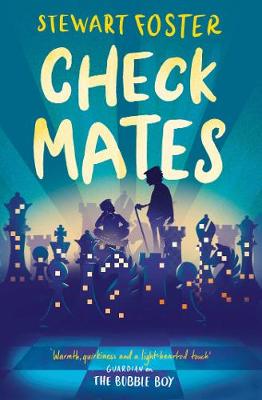 By Author / Illustrator
Stewart Foster
Genre
Friends and family
Age range(s)
9+
Publisher
Simon & Schuster Ltd
ISBN
9781471172236
Format
Paperback / softback
Published
27-06-2019
Synopsis
'Funny and heartfelt with a cunning twist. Stewart Foster is a grandmaster' - ROSS WELFORD

'An inspirational underdog story and a chilling mystery! A winning combination' - DAVID SOLOMONS

Some people think that I'm a problem child, that I'm lazy and never pay attention in lessons. But the thing is, I'm not a problem child at all. I'm just a child with a problem. Felix is struggling at school. His ADHD makes it hard for him to concentrate and his grades are slipping. Everyone keeps telling him to try harder, but no one seems to understand just how hard he finds it. When Mum suggests Felix spends time with his grandfather, Felix can't think of anything worse. Granddad hasn't been the same since Grandma died. Plus he's always trying to teach Felix boring chess. But sometimes the best lessons come in the most unexpected of places, and Granddad soon shows Felix that there's everything to play for.
Reviews
Connor

- Age 11
I must say... this is one of my favourite books ever! The way it is ( beautifully ) written makes you feel his emotions as if they were your own, purely because of its relatability, reminding me about my own family relationships and struggles. I can tell you, I am not the one to cry over any single book I have ever read, and I have read many books about death, destruction and disease. Yet even though Check Mates didn't make me cry, I almost welled up and had to stop reading for ten minutes because of just how powerful the feelings are throughout the whole story. I would recommend this book for EVERYONE!
Suggested Reading Age 9+
Sue
Having ADHD makes it hard for him to concentrate, but Felix does his best to focus. His slipping grades are a worry and everyone keeps telling him to try harder. His parents are under great pressure from work and his Granddad hasn't been the same since Grandma died. When mum suggests Felix and Granddad spend more time together, Felix is horrified, particularly as Granddad seems determined to teach him to play chess. However, chess seems to be the key to unlocking their relationship and helping Felix discover strengths and talents he never knew he had.

This is a truly remarkable story. Felix's relationship with his grandfather is beautifully portrayed as it blossoms through the understanding and respect that comes from spending time together. In helping his grandson, Granddad comes to terms with his grief at the loss of his wife and also the impact of his past. As Felix gains in confidence, his concentration improves and his school work benefits.

The first person narrative allows the reader to see the thoughts of someone with ADHD and sympathise with how his actions are easily misunderstood, resulting in his frequently being in trouble. It also creates great tension during the chess matches where Felix's nerves and anxiety are brilliantly expressed.

Full of strong characters, Check Mates is an excellent read.

352 pages / Ages 10+ / Reviewed by Sue Wilsher, teacher
Suggested Reading Age 9+
Gwyn
Felix is struggling at school, he has ADHD and cannot concentrate on anything. Consequently, he spends a lot of time in isolation and feels like he useless at everything; Felix's confidence is at an all-time low. He doesn't see much of his parents as they are working all hours following the demise of his dad's business. Felix's embarrassing Granddad insists on collecting him from school every day in a pink car, his Grandma's old car. Granddad hasn't been the same since Grandma died and Felix misses her terribly. She used to be fun, not like depressing old Granddad who keeps wanting to teach him chess, how boring!

However, over time Felix learns the game and also all about his Granddad's secret early life. This is a book full of emotion with an unexpected twist at the end; you don't need to be a chess fan to love this book, Stewart Foster is masterful in his ability to pull you into this subtle mystery.

352 pages / Reviewed by Gwyn Hubball
Suggested Reading Age 9+
Other titles