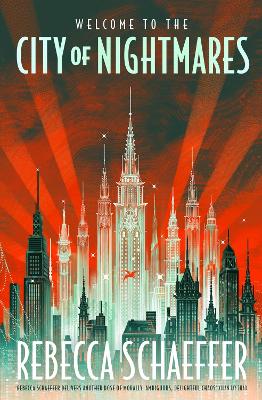 By Author / Illustrator
Rebecca Schaeffer
Genre
Suspense & Thrillers
Age range(s)
14+
Publisher
Hodder & Stoughton
ISBN
9781399712101
Format
Hardback
Expected
23-02-2023
Synopsis
Face your fear . . . or become your nightmare.   Ever since her sister became a man-eating spider and slaughtered her way through town, 19-year-old Ness has been terrified - terrified of some other Nightmare murdering her, and terrified of ending up like her sister. Because in Newham, the city that never sleeps, dreaming means waking up as your worst fear.

Whether that means becoming a Nightmare that's monstrous only in appearance, or transforming into a twisted, unrecognizable creature that terrorizes the city, no one is safe. Ness will do anything to avoid becoming another victim, even if that means lying low among the Friends of the Restful Soul, a questionable organization that may or may not be a cult.

But being a member of this maybe-cult has a price. In order to prove herself, Ness cons her way into what's supposed to be a simple job for the organization - only for it to blow up in her face. Literally. Tangled up in the aftermath of an explosive assassination, now Ness and the only other survivor - a Nightmare boy who Ness suspects is planning to eat her - must find their way back to Newham and uncover the sinister truth behind the attack, even as the horrors of her past loom ominously near.
Reviews
Linda
Warning... what you don't want to do is read this new release just before you go to sleep! You do not want to turn into your worst nightmare... From the very first pages of City of Nightmares, you are dropped into a page turning, creepy, sinister drama. I'm sure, like me, you will be gripped, you will want to know what's coming next...
Newham is a city that's full of corruption, It has no rules. It's also a city where the residents risk turning permanently into their worst nightmare when they go to sleep; the only way to stop this is to take drugs before bed so that they don't dream. The reader follows the journey of Ness, who witnessed her sister turn into a man-eating spider and devour their father. Since this incident, She is scared of dreaming and, understandably, is terrified of nightmares. Ness takes refuge with the Friends of Restful soul as they offered her therapy for her trauma. It's not working, though; when confronted with a nightmare, she runs and hides in a 'cowardly' way, even when out on a call with her best friend Priya! The Friends (it's not a cult!) send her on a last ditch attempt to keep her place at the centre - to take the mail. From from this point on, like the blurb promises, things explode. The only good thing at this moment is that Ness meets Cy, a vampire. Is this a good thing or does he just want to eat her?
Throughout its 374 pages, the development of Ness feels very realistic as it follows her from her scared self to overcoming her fears and becoming brave and strong. City of Nightmares is everything you want in a book as it's full of twists and turns and action-packed drama with a likeable cast of characters, and it tackles some difficult topics like grief and trauma. However, the author has cleverly done this whilst being lighthearted and funny. An easily recommended read. Get it and enjoy.
384 pages / Ages 13+ / Reviewed by Linda Brown, school librarian
Suggested Reading Age 14+
Other titles