Confessions of an Alleged Good Girl: The must-read YA romcom of 2022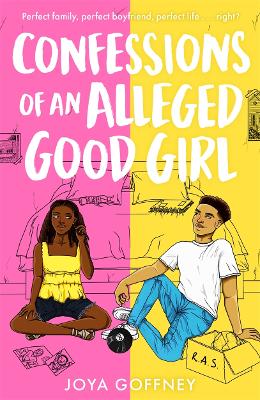 By Author / Illustrator
Joya Goffney
Genre
Romance & Relationships
Age range(s)
16+
Publisher
Hot Key Books
ISBN
9781471411113
Format
Paperback / softback
Published
03-05-2022
Synopsis
The hotly anticipated second book from Joya Goffney, author of the 2021 YA romcom Excuse Me While I Ugly Cry.Monique lives a perfect life - a preacher's daughter and the girlfriend of the town's golden boy. But it's not that simple. She's torn between her parents who want the pure virginal daughter, and her boyfriend, Dom, who wants to explore the more intimate side of their relationship. Tired of waiting, her boyfriend breaks up with her, spurring Monique to discover she has a medical condition that makes her far from perfect and she concocts a plan to fix her body and win him back. With the help of her frenemy, Sasha, the overly zealous church girl Monique's mum pushes her to hang out with, and Reggie, the town's bad boy, Monique must go on trips to unknown and uncomfortable places to find the treatment that will help her. But in doing so, she must face some home truths: maybe she shouldn't be fixing her body to please a boy, maybe Sasha is the friend she needed all along and maybe Reggie isn't so bad at all.
This is a powerful journey towards loving yourself, about body and sex positivity, with heart, humour, family intrigue and a dynamic and delicious love triangle.  Contains explicit references to sex and sexual health.
Reviews
Clair
Monique is a preacher's daughter and her parents have high standards and expectations of her to remain 'pure'. She has been dating Dom for two years. He is a 'golden boy' in her parents' eyes and they trust him wholeheartedly. Dom wants to explore the more intimate side of their relationship and breaks up with Monique when she feels is unable to do so. This spurs Monique on to discover that she has a medical condition called Vaginismus and with the help of Sasha, the seemingly perfect church girl, and Reggie, the town's bad boy (who her father is trying to fix), she concocts a plan to win Dom back and forms two firm friendships in the process.
Confessions of an Alleged Good Girl is such an honest and open YA read. I'd recommend it for ages 16+. The sensitive content is handled really well and Monique makes some good decisions concerning her personal life. She really grows in confidence as the story progresses. There is a good message that you should be true to yourself and follow your own dreams and not change who you are just try to please a boy or to follow your parents' dreams. Monique's parents surprised me. To begin with you get the sense that although they are both fairly strict, her father is the more lenient, caring character and this switches towards the end of the book. Monique's sister was disowned by her parents because she hadn't followed their life plan for her and had struck out to follow her own path. Monique is always slightly fearful that she will also be cut out of the family if she disappoints her parents so this adds some pressure. Indeed at one point she is almost shipped off to her grandmother's house!
The only thing I wasn't keen on was the use of the term 'nigga', which might be authentic black teen language as this book is set in America. Otherwise, this book may help to open up conversations about sex and help validate feelings that young adults may have about their first time.
Content of note: Sexual references throughout, main character diagnosed with Vaginismus, occasional racist terminology and strong language.
384 pages / Reviewed by Clair, school librarian
Suggested Reading Age 14+