Cool Technology: Filled with fantastic facts for kids of all ages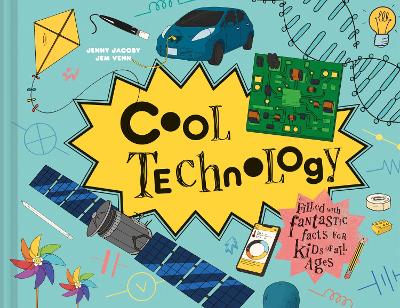 By Author / Illustrator
Jenny Jacoby, Jem Venn
Genre
Non Fiction
Age range(s)
9+
Publisher
HarperCollins Publishers
ISBN
9781843655152
Format
Hardback
Published
13-01-2022
Synopsis
The next mega-jam-packed book in the Cool series features fact-tastic technology timelines, information and experiments. Covering nanotechnology, gaming, future food, virtual reality and more!
As well as looking ahead to the technology of the future, this book looks at major technology advancements of the past that changed the way people lived - like writing, the story of fire, the printing press and the industrial revolution. Complete with engaging illustrations and infographics throughout, also included are experiments and activities that any tech-head can do at home!
Other titles in this series include: Cool Science, Cool Astronomy, Cool Art, Cool Physics, Cool Maths, Cool Architecture, Cool Nature, Cool Coding and Cool Engineering.
Reviews
Sharon
'I loved this book. When my teacher gave it to me, she said I should just dip into the book and read the things I was interested in. I didn't expect to read all of it, but I did. I think she knew I'd really like it.' D aged 10
This is the first time we had come across this series of "Cool" books, and even though it is a tiny book, it is so jam packed full of interesting facts, it is hard not to become engrossed in the contents. The contents are nicely balanced between the history of the most influential technologies, a discussion of current uses of technology and then the possibilities for the future. It certainly had my class discussing what the future might bring.
The curriculum links with IT, Science and History are strong, but the social aspects of knowing where on our technological journey we are at this time, are just as important. The role models chosen and distributed throughout the book are wide ranging, diverse and oh so interesting. We will be looking out for Cool Engineering, Cool Architecture and Cool Science Tricks in particular from this brilliant series.
112 pages / Reviewed by Sharon Porter, teacher
Suggested Reading Age 9+
Other titles