Darkhearts: An enemies-to-lovers gay rockstar romance for fans of Adam Silvera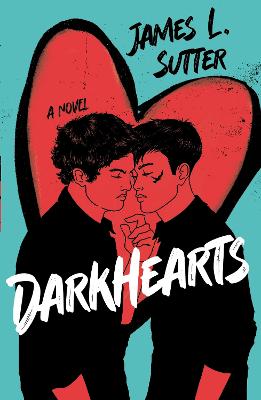 By Author / Illustrator
James L. Sutter
Genre
LBGTQ+
Age range(s)
14+
Publisher
Andersen Press Ltd
ISBN
9781839133374
Format
Paperback / softback
Published
01-06-2023
Synopsis
David used to be in a band with his best friends Chance and Eli. Now the band, Darkhearts, is super famous, with a legion of fans - and David's out of the band and back in high school, brooding over everything he lost out on. Then tragedy throws David and Chance back together. Chance is everything David is not: a swaggeringly drop-dead gorgeous rock god. And yet spending more time alone with Chance, David has to admit he actually misses being with his old friend - and maybe he feels something more. Can you mix music with love? An enemies-to-lovers gay romance, perfect for fans of Simon James Green, Heartstopper and Adam Silvera.  'These boys and their love story filled up my heart - I couldn't stop reading' Amie Kaufman.
Reviews
Stephen
Darkhearts - a teen band formed in Seattle by best mates Chance, Eli and David - till he left two years ago. They made it big, David filled himself with resettlement and hasn't spoken to Chance or Eli since leaving. Fate brings David and Chance back together at the funeral of Eli. While initially prickly towards each other, their friendship starts to rekindle as David starts to see both sides of Chance's life. But an unexpected kiss between them brings doubt, desire and destruction into the relationship, and choices will have to be made that will change their lives.
Darkhearts is an intriguing story about friendships, relationships, music and the struggle to be yourself. The story developed well and I liked seeing how the friendship re-established itself between David and Chance and the complications yet opportunities this brought them. I found the insight into Chance's life as a music star fascinating, showing the darker side to that lifestyle - the travel, time away from family, insecurity with finding friendship, adopting a public and private persona, and exploitation by the industry. Eli paid the ultimate price. It was genuinely insightful and thought provoking.
The characters in the novel are varied and diverse. There's David the quiet high school kid, looking to enter a trade (carpentry) rather than college, and confident Chance leading the pop star high life, yet lonely and looking for friendship. Two very different characters are both searching for something. Their response to discovering their attraction to each other and their developing relationship is beautiful but at times difficult to watch, especially David who has no previous feelings or attraction towards men and he struggles with this. Readers may be struggling with this situation themselves, and if you are take the advice David receives from Denny, a work mate of his Dad, "Just let yourself, like who you like". David's best friend Ridley is one of my favourites from the book - colourful, smart, outgoing - quite the opposite of David and a fantastic friend to him.
I enjoyed the descriptions of Seattle when they appeared, especially the secret lanes near where Chance lives. These are wonderfully described, especially the lake they lead to and I could easily imagine them - a moment of calm, away from the noise and demands of life.
The novel is aimed at teens and the author has written it as such, and though I'm not the target audience, I did find some of the dialogue slightly jarring. An odd phrase here or word there did make me stumble and interrupt the flow of reading sometimes, requiring the use of the internet to find a meaning. It is an American teen novel so I shouldn't be too surprised to find language and cultural differences, and at least I now know what a Napoleon Dynamite fist pump is!
There are moments of great emotion, tenderness, frustration between characters and insightful honesty into teenage friendships and relationships in Darkhearts. It's a story about finding out who you are and learning to let go of somethings from the past to move on.
352 pages / Reviewed by Stephen Leitch
Suggested Reading Age 14+
Other titles