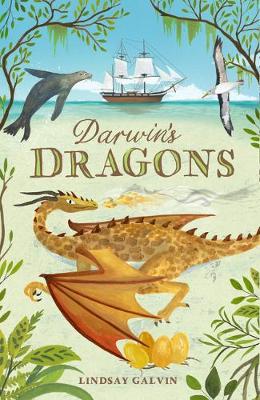 By Author / Illustrator
Lindsay Galvin
Genre
Adventure
Age range(s)
9+
Publisher
Chicken House Ltd
ISBN
9781912626465
Format
Paperback / softback
Published
07-01-2021
Synopsis
How to Train Your Dragon meets Robinson Crusoe in this high-flying dragon adventure from Lindsay Galvin!'A striking and original adventure ... just the sort of story I love.' EMMA CARROLL'WHAT a voyage! [Darwin's Dragons] is everything you hope it will be ...' LUCY STRANGESyms Covington has landed the job of a lifetime - cabin boy and fiddler on Charles Darwin's Beagle. But when he is separated from the crew during a storm, his life takes a truly extraordinary turn. Shipwrecked on a Galapagos island, he makes a discovery that could change the world - and make his fortune. But should he share his find, or will it lead to the extinction of a legendary species? There's one person who could help, but he's busy writing a book ...
Reviews
Faith

- Age 10
The book is about a boy called Covington who was washed up on an island and was saved by a lizard. What I like about this book is that Farthing, the lizard that saved his life, turns into a magnificent dragon. Farthing did many good deeds and it was nice that he turned into something beautiful as a reward. Covington goes on a daring adventure to save more of the dragons. It is also quite sad as Covington risked his life to save his master who had fallen off a boat.
Suggested Reading Age 9+
Chi-Ying

- Age 11
Based in the Galapagos island, A heart-warming relationship between the protagonist and a mythical creature. This is an adventurous story of how humans should treat other living beings, with love and respect. I'm now a total fan of Lindsay Gavin! I can't wait for another story from the author!
Suggested Reading Age 9+
Renee

- Age 10
During his voyage with Mr Darwin, and storm occurs and washes Syms onto a unexplored island with a volcano, a lizard and what he thinks is a dragon. I liked that the book showed resilience, collaboration and trust and the fact that a animal and a human could work together, that the book was different from the books I normally read and that the characters were really interesting.
Suggested Reading Age 9+
Jacqueline
Syms Covington was a cabin boy on the famous Beagle ship, carrying Charles Darwin on his voyage of discovery. In 1835 they reached the Galapagos Islands, where Darwin was to begin to formulate his ideas for Origin of the Species. Syms was a real person and this story looks at a point missing in the Darwin diaries and imagines what might have happened.

In Lindsay Galvin's story, Syms gets lost overboard and swept onto an uninhabited, volcanic island. There he makes an extraordinary discovery; new species of lizards, one of which appears to be an enormous dragon. But will anyone believe him? And will he manage to be rescued before the volcano erupts?

This story brilliantly weaves together fact and fiction in an almost seamless way. Loaded with historical and geographical detail, it becomes entirely plausible that something as impossible as a dragon might actually exist somewhere. The descriptions of the islands and the historical facts lend this book something a bit different, whilst at the same time keeping it a very exciting adventure story, full of courage and danger.

The cover and illustrations inside by Steve Wells are particularly worth mentioning; flip open the book and the end papers are samples from Darwin's notebooks, maps and drawings. Each chapter is accompanied by drawings and it adds to the feel of the book being a diary of something that actually happened.

This would make a great book to read aloud and it contains much to discuss, not least how we treat animals. It is also the sort of story where you could end a chapter and have the class begging for more, desperate to know what happens next. A truly exciting and original story.

256 pages / Reviewed by Jacqueline Harris, teacher
Suggested Reading Age 9+
Jemmimah

- Age 10
This story is based on Charles Darwin's cabin boy, Syms Covington. This is a survival story. I really like the intensity of this book, I was often so captivated that I would lose focus of the world around me. As a big fan of nature, I like how this book includes detail about the setting, the Galapagos. I also really enjoyed how Darwin is portrayed in this book. It's written as the narrative of his servant and it refers to Darwin as 'my young master'. It is a nice change given that we are used to the 'old grandpa' as the author mentioned.
Suggested Reading Age 9+
Sue
Syms Covington was taken on to the Beagle as cabin boy and fiddler, but has spent the past two years acting as assistant to Mr Darwin, a young scientist, as he explores the Galapagos Islands. However, an accident during a storm leaves him shipwrecked and alone in an inhospitable place, struggling to survive. Here, he makes an incredible discovery which will change his life forever.

Darwin's Dragons mingles truth and imagination to create a fabulous story. To create her character Syms, Lindsay Galvin has used a real cabin boy and fiddler of that name on board the Beagle who was promoted to Darwin's assistant, instantly showing children what a little research and a lot of creativity can do. The novel is perfect for any class looking at the Year 6 science 'Evolution and Inheritance' and 'working scientifically' objectives, but offers so much more than this.

When shipwrecked on Narborough Island, Syms is helped by a lizard which he calls Farthing. The relationship between these two is developed beautifully, amid stunning descriptions of the island and its flora and fauna. Syms' time on the island is full of fear and tension as he faces danger from volcanic activity - and a dragon which lives there. With Farthing's help, Syms rescues the dragon's eggs, and escapes to sea where, miraculously, he is rescued by the Beagle.

Once back in London, when the eggs hatch, they are considered to be an exotic lizards with Syms alone recognising the truth. When his beloved dragons are rehomed at the London Zoological Society, Syms struggle to accept the attitude many, including Mr Darwin, have to the fate and well-being of the creatures there. This offers many excellent opportunities for discussions about historical attitudes to 'specimens' as well as current ones, the need for conservation, the role of zoos, etc.

The attention to detail throughout the story is wonderful, creating a book rich in historical detail as well as exciting adventure. There is a map showing the Beagle's voyage at the beginning of the story and notes at the end offering further information and a timeline of Darwin's life. The covers fold out to show maps, sketches, notes and pictures, perfect for inspiring further investigation and discovery.

The perfect blend of fact and fantasy, Darwin's Dragons offers much to discuss, but more to enjoy.

256 pages / Reviewed by Sue Wilsher, teacher
Suggested Reading Age 9+
Kelly
I was delighted to have the chance to review Darwin's Dragons as I knew it was the perfect class reader for Y6 and would support their evolution topic in science.

Syms Covington's dreams have come true, cabin boy and fiddler on Charles Darwin's Beagle. Covington joins Darwin as he procures and studies specimens for his work, which results in On The Origin of Species. When an unexpected storm strikes, Covington finds himself deserted on one of the Galapagos islands with no food, no shelter and no hope of survival. Before he knows it, he is being hunted down and the adventure of a lifetime unfolds; he makes an unusual acquaintance, which he assumes is some sort of native green lizard, whom he names Farthing, and a life-changing discovery is made.

After a fast-paced battle involving a large flying beast and an ever erupting, intense lava spewing volcano, Covington escapes the island, to be reunited with Darwin and the Beagle, voyaging back home to Victorian England with Farthing and some unusual eggs.

What follows is the exploration of science, friendship and survival as Covington tries to help Fathing and his new discoveries adapt to damp and dismal England; an environment immensely different, if not completely foreign, from what they are acclimatised to.

An immersive read, Darwin's Dragons, plunges the reader into the pulsing heart of the adventure. Perfect for UKS2, I can't wait to share this with my Y6 class; I know they will be completely mesmerised and transported back in time.

256 pages / Ages 9+ / Reviewed by Kelly Buxton, teacher
Suggested Reading Age 9+
Other titles