Do Not Mess with the Mermaids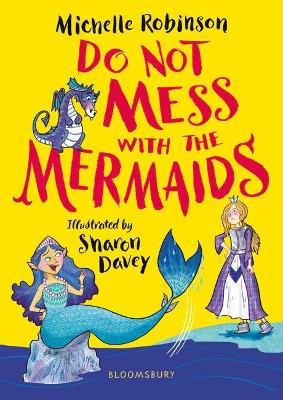 By Author / Illustrator
Michelle Robinson, Sharon Davey
Genre
Magical Realism
Age range(s)
7+
Publisher
Bloomsbury Publishing PLC
ISBN
9781408894910
Format
Paperback / softback
Published
08-07-2021
Synopsis
Grace has proved to the kingdom of Wondermere that when it comes to courage, determination, playing TROLL-O on unicorn-back and being a brave knight, she's just as good as any boy!  But now Wondermere is expecting a very important visitor: the Mermaid Queen of the Outer Ocean. That means frilly dresses and best behaviour - and absolutely NO rule breaking.
But when a purple dragon egg falls into the moat of Wondermere castle, Grace and her sister Princess Portia find themselves babysitting a BIG secret. One teeny tiny little dragon called Dennis couldn't possibly disturb the royal visit ... could he?
Cheeky, charming and laugh-out-loud funny, this is the side-splitting sequel to bestselling Michelle Robinson's debut young fiction novel, Do Not Disturb the Dragons. Chock-full of chuckles (and grumpy unicorns), it's perfect for fans of Cressida Cowell and Pamela Butchart.
Reviews
Emma
Do not mess with the Mermaids by Michelle Robinson is the second instalment in the escapades of Princess Grace and Princess Portia. The Princesses have been given the new title of 'Sirs' after their success in Do not disturb the Dragons. The book begins with a short recap of their adventures - and although reading the first book isn't a pre-requisite, it does help with understanding their story - especially when you are discussing points such as equality between genders.
In this instalment, the Kingdom of Wondermere is hosting the first visit from the Mermaid Queen of Outer Ocean and the Princesses (sirs) need to be on their best behaviour.) The tale takes us through a discovery of dragons' egg at the bottom of the lake, the subsequent hatching of this egg, and how it affects the impending royal visit. The title of each chapter is based on one of the many rules in Wondermere - beginning with 'Do not swim in purple water' and the readers find out exactly why this is one of Wondermere's important rules.
This book was read to a mixed ability Year 2/3 class and would be a good read-alone for those children in upper KS1. The class loved that Princess Grace was still having issues with dragon poo (it's supposed to be lucky!) and that she was always in some sort of bother especially with Unicorns! There are some truly laugh-out-loud moments and the illustrations by Sharon Davey are a brilliant addition to the story.
The class continued with their discussion around equality and it led to conversations about how we should all be treated equally regardless of gender and race.
224 pages / Reviewed by Emma Nelson, teacher
Suggested Reading Age 5+
Megan
Do Not Mess With The Mermaids is the second book in a magic-packed series. This story takes place eight years after Princess Grace and her sister Princess Portia win the troll-o tournament. Over the past eight years, the Kingdom of Wondermere has changed a lot and rules are now made to be broken! However, for a few days, the girls must be on their best behaviour as they have a royal guest visiting. Sticking to rules is not an easy task for Grace and Portia, especially when they find a dragon egg.
Do Not Mess With The Mermaids is another brilliantly funny book by Michelle Robinson. Packed full of dragons, unicorns, witches and mermaids, this book will make you want to not put it down. The book has a lovely message that girls can be or do anything they want to and would make a great read for anyone 7+. I am excited to read the next book in the series!
224 pages / Reviewed by Megan Webb, teacher
Suggested Reading Age 7+
Other titles