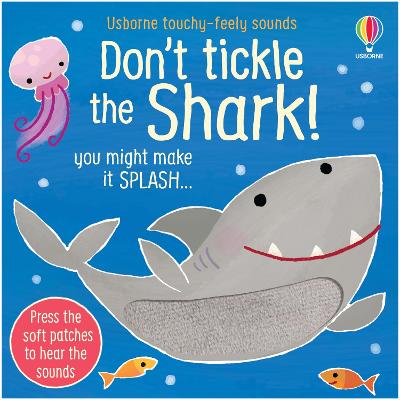 By Author / Illustrator
Sam Taplin, Ana Martin Larranaga
Genre
Baby & Toddler Books
Publisher
Usborne Publishing Ltd
ISBN
9781803700915
Format
Board book
Published
08-06-2023
Synopsis
When babies and toddlers touch the soft patches in this irresistible novelty book, the sea creatures come to life with hilarious and charming sounds. As well as tickling the shark, they can also tickle a dolphin, a sea lion and a seagull, before all the animals gather at the end for a musical finale guaranteed to get everyone dancing!
Reviews
Elen
Don't Tickle the Shark brings together the familiar formats of a sound book - where you press a patch to hear a sound - and a 'touchy feely' book, where babies and toddlers are encouraged to feel different textures on a page. In this book, however, you stroke a patch to hear the sound, which is a wonderful way to encourage very young children to fine tune their fine motor skills as it rewards them with both hearing and touch senses.
And the sounds they hear are such fun. Stroke the soft patch of a shark's tummy to hear a splash, or a seagull's wing to hear it screech, and if you tickle a dolphin, you'll hear its song. There are lovely descriptive words to recognise - screech, squeak, grunt - and animals to learn about. And when you turn to the final page, you get to hear them all alongside a fabulous sea shanty; young children will want to turn to this page again and again!
So lots of fun learning to be had inside the pages of this rather special board book!
10 pages / Reviewed  by Elen 
Suggested Reading Age 0+
Other titles