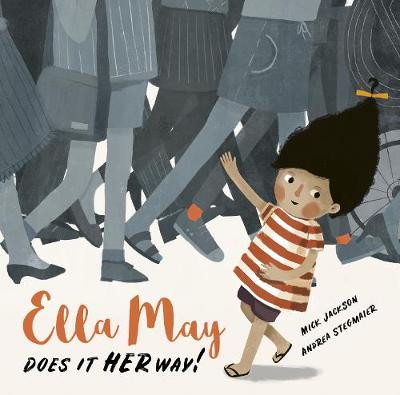 By Author / Illustrator
Mick Jackson, Andrea Stegmaier
Genre
Adventure
Age range(s)
5+
Publisher
Frances Lincoln Publishers Ltd
ISBN
9781786039040
Format
Hardback
Published
20-06-2019
Synopsis
Hello and welcome to Ella May, the girl who likes to do things her way. In the first of this brilliant new series all about an imaginative, strong-willed girl character with her own ideas, Ella May tries walking backwards, just to see how it feels. In her bedroom she tries reading her books backwards, and after dinner she goes backwards up to the bathroom and climbs backwards into bed. When Ella goes backwards up the slide and backwards over the castle, Ella's mum decides to turn around and walk backwards next to Ella, to make it easier for them to talk. Pretty soon, half the town is walking backwards in a giant, backwards-walking procession. Where will it end?
Reviews
Louise
Ella May Does It Her Way is a tale of one girl's desire to try something new - in Ella May's case, to walk backwards, and then to keep trying to do things like reading and getting into bed, 'backwards'. Soon, everyone else wants to try things her way, too. Ella May Does It Her Way is an inspirational story that encourages us to think differently, to try new things and to trust in our own ideas as we are, after all, all unique and different. The book could be used in a key stage one class (ages 5-7 years) to set individual or even whole class goals. It will show children that ideas can be good, exciting and - as is the case with Ella May - influential, bringing about change. This is a great book with a simple message, but one that could certainly be used to encourage children to set their own personal goals and develop new ideas. Picture book / Ages 4+ / Reviewed by Louise Gahan, teacher
Suggested Reading Age 3+
Lizi
A nicely illustrated book, the story follows Ella May through a day of walking backwards after being told it's good to try new things. The details in the illustrations are great and could spark fantastic conversations with younger readers, however the story itself is a bit limited and doesn't really go anywhere, there's no real story progression. In the classroom, this book could be used with younger children as a discussion about trying new things, or perhaps for looking at movement in PE lessons.
Suggested Reading Age 5+
Other titles