Everest: Reaching the Roof of the World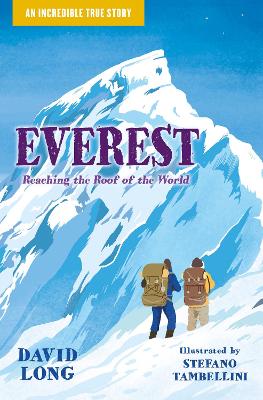 By Author / Illustrator
David Long, Stefano Tambellini
Genre
Non Fiction
Age range(s)
11+
Publisher
Barrington Stoke Ltd
ISBN
9781800900943
Format
Paperback / softback
Published
01-09-2022
Synopsis
Everest is the world's highest mountain, towering like an icy giant over the Himalayas. For the millions of people living nearby, it has always been a magical place, known as "Goddess Mother of the World" or the "Peak of Heaven". To explorers and adventurers, it represents a perilous but thrilling challenge to be conquered.
In this exhilarating account by award-winning author David Long, he looks back at the first attempts by international mountaineers to reach the fabled summit, many of which ended in death and disaster.
Reviews
Joanna
I found this book absolutely fascinating; I was completely absorbed by it and couldn't put it down. To find out about the many attempts to reach the summit of Mount Everest, the many failures, deaths and finally success, was so interesting to read. Prior to reading this book, I had very little knowledge of Mount Everest. By the end, I had learned so much about this wonderous mountain and I felt I had been on that long and exhausting journey with Edmund Hillary and Sherpa Tensing Norgay to finally achieve success and reach the top of the world.
Not only does this book teach facts and information about Everest and all the attempted scales to the summit, but it also teaches resilience and the importance of not giving up on your dreams. Edmund Hillary spent years and years researching and preparing himself and his team for their climb of Everest. David Long (author) writes as though he was there with Hillary and Norgay, such is the detail in his writing. As a reader, you feel the pain as they slowly walk through blizzards, the exhaustion of camping a mere distance away from the previous night's camp and the complete exhalation when they reach the summit.
The important message of pollution and littering at the end of this book is vital for young readers to understand if Everest is to remain one of the world's magical wonders. It explains how there are now approximately 800 climbers of Everest every year, leaving their equipment, apparatus and faeces on the mountainside. Young readers must realise the damage pollution and littering are having on our planet and how we must ensure we look after our planet.
This a fantastic non-fiction book for young people to learn about Mount Everest and the history behind the climb to the 'Peak of Heaven'.
96 pages / Reviewed by Joanna, teacher
Suggested Reading Age 11+
Other titles