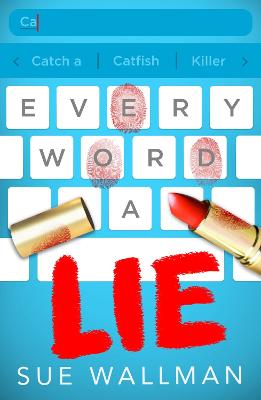 By Author / Illustrator
Sue Wallman
Genre
Suspense & Thrillers
Age range(s)
11+
Publisher
Scholastic
ISBN
9780702324062
Format
Paperback / softback
Published
11-05-2023
Synopsis
Award-winning author Sue Wallman tells a nail-biting story of a catfishing prank that gets out of control ... and gets deadly. Two friends, Amy and Stan, plan revenge on their prankster friend Hollie by catfishing her as her crush. They only mean to do it for a day or two - but then Hollie ends up dead. As the catfish continues to strike others, Amy needs to find out: who is really in control of the catfish? Can she trust anyone? And is she the killer's next target?
Sue Wallman is the author of books such as I Know You Did It, Such a Good Liar and Lying About Last Summer. Perfect for fans of Holly Jackson, Karen McManus and E. Lockhart
REVIEWS FOR PREVIOUS SUE WALLMAN BOOKS: Such a Good Liar - "Such a Good Liar is a fast-paced, anxiety-inducing thriller with plenty of twists and turns. The ending what not what I expected, but it was suitably satisfying and definitely leaves the door open for a sequel - I'd love to know what 'Lydia' gets up to next! - Rebecca Rouillard, Good Reads. "Like Inventing Anna and the fascination with fake German heiress Anna Delvey, this fraudster story will keep readers on edge, turning the pages to find out how long Lydia can keep this brazen scheme up." - Fantasticfiction. I Know You Did It - "I Know You Did It is a fantastic, gripping crime thriller from Sue Wallman which never lets up in pace and excitement - young readers will tear through its pages." - BookTrust.  Dead Popular - "Wallman's writing is sharp, her teenagers are well-drawn, and the plot is enough to make the parents of any teens at boarding school blanch. Dead Popular is an excellent YA mystery that kept me very happily entertained as I attempted to uncover whodunit." - Crime Review UK
Reviews
Clair
Every Word A Lie is a murder mystery that is full of twists and turns. It is fast-paced and really builds the tension. It is also a bit of a cautionary tale on internet safety, but this is done in a way that is not condescending. The message is clear - Every Word could be A Lie. Do not trust everything you read or receive online! Do you really know who you are messaging with, are they who they say they are?
Friends Amy and Stan are pranked by Hollie who signs them up for a litter pick at school. Whilst this was a laugh, they do end up getting photographed in their high vis jackets and posted as a meme on line. To get Hollie back, Amy and Stan gain access to her crush's social media account and send her fake messages pretending to be from him. Hollie goes to meet her crush - but ends up dead as a result. And having had a taste of murder, the catfish killer is just getting started…
The main character Amy is very authentic. You can tell that the author works with teenagers. Amy's life is in turmoil following what she had thought was a harmless prank. Not only has she lost her best friend, but she is blamed for leading Hollie to the park, to her death. She now has to cope with the fallout at school and friends distancing themselves from her. Concerned that suspicion may start to fall upon her, Amy cannot resist checking in on the messages on the catfish killer's account. Can she work out who is behind it? When she starts to receive intimidating messages herself, will she be next?
I don't want to give any spoilers but let's just say that the ending was really not what I had anticipated. This is a super-readable murder mystery and will appeal to teens who have enjoyed reading Holly Jackson and Karen M McManus.
320 pages / Reviewed by Clair Bossons, school librarian
Suggested Reading Age 11+
Other titles