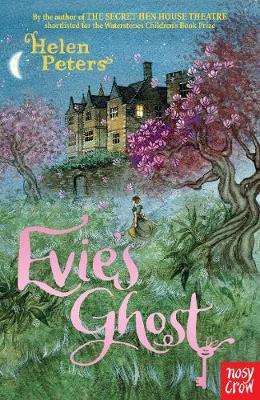 By Author / Illustrator
Helen Peters
Genre
Historical Fiction
Age range(s)
9+
Publisher
Nosy Crow Ltd
ISBN
9780857638427
Format
Paperback / softback
Published
06-04-2017
Synopsis
Evie couldn't be angrier with her mother. She's only gone and got married again and has flown off on honeymoon, sending Evie to stay with a godmother she's never even met in an old, creaky house in the middle of nowhere. It is all monumentally unfair.
But on the first night, Evie sees a strange, ghostly figure at the window. Spooked, she flees from the room, feeling oddly disembodied as she does so.  Out in the corridor, it's 1814 and Evie finds herself dressed as a housemaid. She's certain she's gone back in time for a reason. A terrible injustice needs to be fixed. But there's a housekeeper barking orders, a bad-tempered master to avoid, and the chamber pots won't empty themselves. It's going to take all Evie's cunning to fix things in the past so that nothing will break apart in the future...
Absorbing, brilliant storytelling from the author of The Secret Hen House Theatre, The Farm Beneath the Water, Anna at War and The Jasmine Green Series for younger readers.
Reviews
Linda
Evie's Ghost is a low fantasy book written in the same vein as Tom's Midnight Garden. It tells the story of a young girl named Evie, who feels that life is being very unfair to her as her mom has recently re-married, gone on her honeymoon and left her with a very elderly godmother. Evie is opposed to everything and determined to make everyone's life around her as miserable as she feels.
However, things change as during her first night at her godmother's flat, she hears a distant clock strike twelve and then sees a ghost. When she goes to investigate, she realises that her clothes have changed as she has gone back in time. Evie finds out that she has to save Sophia, the ghost, from her wicked father before she can return to her own time. Will she be able to do this successfully?
This wonderful story is almost like a little history lesson as you read through the book as to the life of a young female servant during the 1800's. The story will hold the interest of children from 9-11years with its element of time travel and interesting, believable characters.
304 pages / Reviewed by Linda Brown, school librarian.
Suggested Reading Age 9+
Other titles