Fireborn: Twelve and the Frozen Forest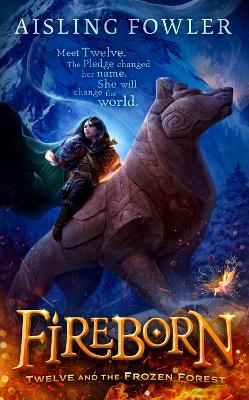 By Author / Illustrator
Aisling Fowler
Genre
Fantasy
Age range(s)
9+
Publisher
HarperCollins Publishers
ISBN
9780008394158
Format
Hardback
Published
30-09-2021
Synopsis
Set in the snowy northern forests of an imagined prehistoric world, Fireborn is the middle-grade debut of the decade. At turns exciting, funny and heart wrenchingly sad, it marks the introduction of an unstoppable new voice in children's storytelling.
Twelve has spoken the Pledge and now she is a Huntling. She has given up her name to train in the art of fighting monsters and keeping the peace, and she won't get to choose a new one until she has earned it.  But when the Lodge's walls are breached for the first time, and a little girl is taken, Twelve is the only one interested in going after a child... Teaming up with Dog, the Stone Guardian of the Lodge, Twelve ends up on an epic adventure that will change her life, her name - and her entire world.
Reviews
Rhiannon
Twelve is a huntling who has pledged her loyalty to the Lodge and given up everything she has, including her name, to protect the seven clans. However, Twelve is driven by a dark purpose, darker even than she realises. Before she can complete her training, the Hunting Lodge is attacked and Twelve finds herself on a quest to track a kidnapped huntling, (the closest she has to a friend besides her squirrel) Widge. Alongside some reluctant companions, Twelve is torn between her need for revenge and a future where she might just be the hope of hunters everywhere.
Fireborn is an exciting, action-packed and magical adventure from debut author Aisling Fowler. A classic quest with a tantalising darkness, this novel is a must-read for ages 11+. The pace is fast, the fantasy setting well drawn and the character development very believable. Themes of grief, friendship, guilt and relationships are woven effortlessly into scenes of battle and magic. Highly recommended!
432 pages / Reviewed by Rhiannon Cook, school librarian
Suggested Reading Age 11+
Louisa
Twelve has given up her name and her previous life to take an oath of allegiance to the Hunting Lodge. She has sworn she will, "never lower her weapons in the face of darkness nor allow tyranny to rise". Now she is learning to hunt dark creatures so she can earn a new name and graduate from huntling to Hunter. She's a fearsome fighter, yet she struggles to contain her temper and dreams and prefers isolation to friendship with her fellow huntlings.
Despite all this, when Seven goes missing and the Hunting Lodge is under attack, Twelve feels strangely compelled to mount a rescue attempt. Before long, she's fighting for her life. She is forced to work with others and to confront her inner rage. Ultimately, she realises it is up to her to decide what person she wants to be. Can she and will she live up to the oath she has taken?
The shimmering frost bound setting of an imagined prehistoric world is reminiscent of Sky Song or Wolf Brother.  Twelve is a formidable modern heroine, a fierce, resourceful survivor, in the mould of Katniss Everdeen. I enjoyed both elements but the real fun of Fireborn for me was its page-turning plot: a succession of narrow escapes, gruesome monsters and hard-fought battles, with a pinch of magic thrown in. Fireborn is an exhilarating read, a sizzling adventure. Children who enjoy a story with plenty of action and the thrill of suspense will surely love it.
432 pages / Reviewed by Louisa Farrow
Suggested Reading Age 11+
Beverley
Twelve has pledged her life to the Hunting Lodge. She has given up her name and is now a Huntling, training in the art of fighting monsters and keeping the peace in the land of Ember. Once she has earned the right to be a Hunter she will be able to choose a new name. Until then, she is a number.   One evening the walls of the Lodge are breached by goblins and one of the other Huntlings, a girl named Seven, is taken. Twelve, along with two boys, Five and Six, team up with the Stone Guardian of the Lodge, Dog, and set off on an epic adventure to find Seven.
Fireborn is an exciting, exhilarating debut novel from Aisling Fowler, a new name in the world of children's literature. Set in a wild and bleak world, it is full of mystery and, sometimes, horror. The three Huntlings, Five, Six and Twelve, encounter many ferocious beasts on their journey through the Frozen Forest. We are introduced to the nightmarish Cliffcrawlers, the mischievous and deadly Firesprites and the terrible Ygrex, a dreamstalker who invades a person's memories and twists them so as to confuse and trick its victims. Twelve also confronts huge spiders, Deathspinners, as well as rescuing the gentle Moxie, Foxpaw, who helps them with their quest.
The novel is filled with action and is beautifully written, giving the reader a wonderful picture of this cold and dangerous land. Twelve is the central character, and is a complex and fascinating girl, who finds she has powers she could not have dreamed of. She is mistrustful of others and is full of anger. As we follow her story, we discover more about her background and learn how she came to lose her family and how she became a Huntling. She and Five do not like each other at the beginning of the book, and the author beautifully describes how their mutual loathing becomes grudging respect and, finally, true friendship. The supporting characters, Six and the Guardian, Dog, are both integral to the story and the author cleverly manages to inject some humour into the narrative.
Some parts of the novel are quite dark and violent, especially the brilliant description of the meeting with the Cliffcrawlers, which is truly scary! Fowler uses clever devices to move the story along; Twelve has visions of her past which allow us to understand more about what happened to her and why she is so angry with the world. Twelve also uses a book, a Magical Bestiary, to help her to recognise and overcome the many monsters the group meet along the way. She reads out sections to her fellow travellers, so the reader is given a perfect image of the creatures involved.
This is ultimately a story about bravery and friendship, with a fierce and strong heroine at its heart. The adventures of Twelve, Five, Six and Seven have surely only just begun and I look forward to following them on their next quest.
432 pages / Reviewed by Beverley Somerset, School Librarian
Suggested Reading Age 11+
Sue
Twelve lives at the Hunting Lodge. With the other Huntlings, she has taken the pledge, giving up her name and her past to fight the monsters which roam Ember. However, Twelve is driven by the desire for revenge against those who killed her family, keeping a distance from her peers. When the Hunting Lodge is attacked and one of the Huntlings is snatched, Twelve sets off in pursuit and finds herself on a quest which changes everything.
What an adventure! Ember is a richly imagined world, inhabited by seven clans. It is plagued by magical creatures which the Hunters of the Lodge have pledged to defend them from. Twelve and her fellow Huntlings have given up their names and won't be given new ones until they have earned them by passing a Blooding. The world building is excellent, with the past history of the land enabling the reader to understand how the present situation has developed as well as flashbacks from Twelve's past revealing her pent up anger and sorrow. Locations are vividly described throughout, creating the perfect setting for this amazing quest.
Twelve is a powerful character, complex and vulnerable under the layers she has built up to defend herself. Her desire to remain aloof from the other Huntlings is gradually eroded as she learns to trust, despite challenges along the way. Other characters are equally engaging and interesting, with strong personalities and well developed back stories.
I found Seven particularly fascinating and there is plenty of scope here for future adventures in this amazing world. The story is peppered with darker moments and there is plenty to keep the reader on the edge of their seat in this immersive fantasy. One not to miss…
432 pages / Reviewed by Sue Wilsher, teacher
Suggested Reading Age 11+
Other titles