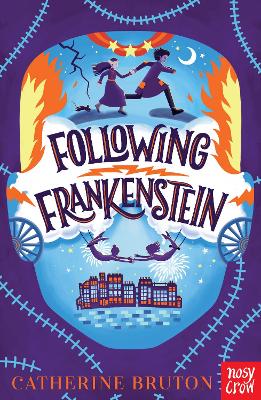 By Author / Illustrator
Catherine Bruton
Genre
Historical Fiction
Age range(s)
9+
Publisher
Nosy Crow Ltd
ISBN
9781788008440
Format
Paperback / softback
Published
07-10-2021
Synopsis
A brilliantly-conceived and hugely imaginative 'sequel' to Mary Shelley's masterpiece, Following Frankenstein is a hugely exciting and beautifully-written historical adventure, perfect for 9-12 year olds.
'Sometimes I was jealous of the monster of Frankenstein. I grew up believing my father cared more for him than he did for me. And was I wrong?'  Maggie Walton's father has dedicated his life to a single pursuit: hunting down the monster created by Victor Frankenstein. It has cost Maggie and her family everything - and now her father is staking everything on one last voyage to the Arctic, with Maggie secretly in tow, where he hopes to find the monster at last. But there they make a shocking discovery: Frankenstein's monster has a son...A breath-taking, epic adventure, spanning the icy wastes of the Arctic Tundra to the vaudeville circus of New York, from the award-winning author of No Ballet Shoes in Syria and Another Twist in the Tale.
Q&A and Video with author Catherine Bruton
Reviews
Ruth
Following Frankenstein is a book chock full of adventure but with friendship, acceptance and kindness at its heart. The main character, Maggie is caught up in her father's desire to catch the 'monster' created by Victor Frankenstein. Together, they travel the world in search of the creature but hold different plans for their prize...
This novel is ultimately a story about empathy, for humans, animals and all those who do not fit conventional categories. It encourages readers to see beyond the superficial and look into their hearts for the real essence of their nature. Through the diverse friendships Maggie makes during her journey, we meet many people from whom there are lessons to be learned.
This makes 'Following Frankenstein' a valuable addition as a class reader. There are many discussion opportunities and examples to use that enable children to reflect on what is right and wrong and to consider what they might do in the safe environment of this fantastical story. I have recommended this story for older primary school pupils (from 9+) as there are descriptions of cruelty towards the creature which some children may require additional support for during reading.
272 pages / Reviewed by Ruth Cornish
Suggested Reading Age 9+
Other titles