Fourteen Wolves: A Rewilding Story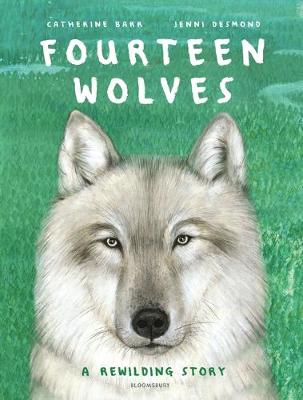 By Author / Illustrator
Jenni Desmond, Catherine Barr
Genre
Environment
Age range(s)
7+
Publisher
Bloomsbury Publishing PLC
ISBN
9781526607492
Format
Hardback
Published
15-04-2021
Synopsis
In fairy tales, the wolf's cry makes people shudder. They've been hunted, captured. But the wolf carries a wild magic - a magic that once restored a barren land. When wolves disappeared from Yellowstone Park in the 1930s, the ecosystem started to collapse. Enormous herds of elk swarmed the plains, bears starved, rabbit families shrunk and birds flew away to new homes. Plants vanished, trees withered and rivers meandered. Until in 1995, wolves returned to the park and everything began to change for the better. This is the story of their homecoming. With atmospheric storytelling from Catherine Barr and breathtakingly beautiful artwork by Jenni Desmond, this inspiring true story shows that every species plays an important part in protecting our planet.
Reviews
Megan
Wolves are often considered as horrible scary creatures, however, they have a lot to offer. Fourteen Wolves tells the story of the reintroduction of wolves in Yellowstone Park, USA, in 1995. Prior to 1995 wolves had disappeared from Yellowstone Park, which caused the ecosystem collapse. Animals like elk thrived while others no longer had homes.  Once the wolves were reintroduced to Yellowstone Park, the ecosystem started to restore itself once more.
This is an excellent book for helping children understand how important it is that we take care of all living things. The book highlights how humans can have both a negative and positive impact on animals and the world around us.
I thoroughly enjoyed reading this book, it is a thought-provoking story that could lead to many discussions. The illustrations are beautiful and add to the magic of the wolves. I am sure many children would enjoy reading this wonderful story as much as I did.
48 pages / Reviewed by Megan Webb, teacher
Suggested Reading Age 7+
Other titles