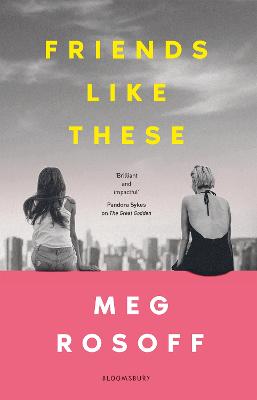 By Author / Illustrator
Meg Rosoff
Genre
Friends and family
Age range(s)
14+
Publisher
Bloomsbury Publishing PLC
ISBN
9781526646118
Format
Hardback
Published
09-06-2022
Synopsis
From the incomparable Meg Rosoff, bestselling author of How I Live Now and The Great Godden, comes an alluring coming-of-age tale about the summer that changes everything. New York City. June, 1982. When 18-year-old Beth arrives in Manhattan for a prestigious journalism internship, everything feels brand new - and not always in a good way. A cockroach-infested sublet and a disaffected roommate are the least of her worries, and she soon finds herself caught up with her fellow interns - preppy Oliver, ruthless Dan and ridiculously cool, beautiful, wild Edie. Soon, Beth and Edie are best friends - the sort of heady, all-consuming best-friendship that's impossible to resist. But with the mercury rising and deceit mounting up, betrayal lies just around the corner. Who needs enemies... when you have friends like these?
A gritty, intoxicating novel about a summer of unforgettable firsts: of independence, lies, love and the inevitable loss of innocence. Sharp and irresistible, it's perfect for fans of Sally Rooney's Conversations with Friends and Exciting Times by Naoise Dolan.
'An irresistible account of female friendship ... Nobody describes the strength, pain and comedy of being young as elegantly and eloquently as Meg Rosoff' - Amanda Craig 'A wonderful, captivating writer' - Daily Telegraph 'A magical and utterly faultless voice' - Mark Haddon
Reviews
Clare
Freshly landed in stifling summer bustle of 1980's New York, Beth is one of four students on a prestigious journalism internship. Along with the others - intense and ruthless Dan, preppy, good-looking Oliver and wild and troubled rich girl, Edie, she experiences the thrills and fears of work, independence and relationships. Forming an almost suffocating bond with Edie, Beth tries to balance work with the heady freedom of city living and Edie's tumultuous home and love life.
This is another beautifully written and evocative book from the peerless YA author Meg Rosoff. The sweltering New York summer and the gritty urban background are central to the feel of the book - Beth is often hot, awkward and uncomfortable. But her measured way of thinking is her saving grace in a confused and heady atmosphere where lies and betrayals ultimately surface.
Although we gain some insight into the other characters, this is really Beth's story - an intoxicating mix of love, friendship and learning over one unforgettable summer.
320 pages / Reviewed by Clark Wilkins, school librarian
Suggested Reading Age 14+
Morgan
Set in the summer of 1983, an ambitious intern, Beth, sets out in New York - alone, and unaware of some aspects of the New York way of life. With a place to stay in the sweltering heat in an apartment infested with cockroaches, a keen Beth befriends an outgoing, chaotic Edie. Whilst all seems good with Beth moving in with Edie, this friendship grows and so does Beth's relationship with Tom. But as the summer goes on, the trail of lies and betrayal unwind.
This novel gives aspects of New York life during the 1980s including topics which were raised at the time. This book shows the journey of friendship, betrayal and love.
320 pages / Reviewed by Morgan Harkin
Suggested Reading Age 14+
Other titles