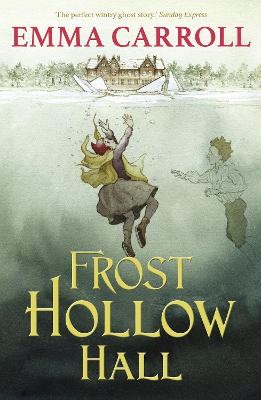 By Author / Illustrator
Emma Carroll
Genre
Historical Fiction
Age range(s)
9+
Publisher
Faber & Faber
ISBN
9780571295449
Format
Paperback / softback
Published
03-10-2013
Synopsis
The gates to Frost Hollow Hall loomed before us. They were great tall things, the ironwork all twisted leaves and queer-looking flowers. And they were very definitely shut.  Tilly's heart sinks. Will's at the door of their cottage, daring her to come ice-skating up at Frost Hollow Hall. No one goes near the place these days. Rumour has it that the house is haunted . . . Ten years ago the young heir, Kit Barrington, drowned there in the lake. But Tilly never turns down a dare. Then it goes horribly wrong. The ice breaks, Tilly falls through and almost drowns. At the point of death, a beautiful angel appears in the water and saves her. Kit Barrington's ghost. Kit needs Tilly to solve the mystery of his death, so that his spirit can rest in peace. In order to discover all she can, Tilly gets work as a maid at Frost Hollow Hall. But the place makes her flesh crawl. It's all about the dead here, she's told, and in the heart of the house she soon discovers all manner of dark secrets . . .  Frost Hollow Hall is a thrilling historical fiction debut. Told in Tilly's unique voice, it is a tale of love and loss, and how forgiveness is the key to recovery.
Reviews
Louisa
It's a snowy afternoon in February, 1881. Tilly Higgins has taken a dare to skate on a frozen lake at Frost Hollow Hall. She's trespassing and the ice is treacherous: exactly ten years before, a boy drowned here. Suddenly the ice cracks and Tilly too is drowning… until a strange spirit seems to intervene. Entranced by his beauty, Tilly is quickly drawn into his story. It seems he's a ghost, desperate for her assistance so his spirit can find peace. She's eager to help but she's not quite sure exactly how and her attempts keep getting her into trouble with the living - and the dead.
Frost Hollow Hall is a great book for anyone who enjoys a classic, spine-tingling ghost story. It snatches the reader up in a creepy world of mystery and adventure, raising questions about the world of the supernatural and all the while remaining believable. Unusually for an adventure story like this, there's also a nicely nuanced cast of supporting characters: no out-and-out villains and no saints, either. I really loved the way it subtly showed how otherwise decent people can occasionally behave with meanness and cruelty and how this can have far-reaching effects on others.
Tilly herself is a typical Emma Carroll heroine, spirited and courageous, determined to unravel a mystery whatever the risks. She's easy to identify with, despite being from a different age, and her character drives the story, which had me up well past my bedtime. I needed to know that Tilly would prevail. A compelling read and definitely worth seeking out for the school library.
368 pages / Reviewed by Louisa Farrow, teacher
Suggested Reading Age 9+
Other titles