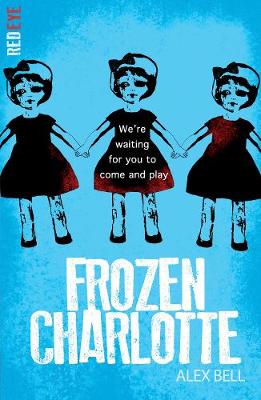 By Author / Illustrator
Alex Bell
Genre
Horror
Age range(s)
11+
Publisher
Little Tiger Press Group
ISBN
9781847154538
Format
Paperback / softback
Published
05-01-2015
Synopsis
"Deliciously creepy." - Juno Dawson
Dunvegan School for Girls has been closed for many years. Converted into a family home, the teachers and students are long gone. But they left something behind...  Sophie arrives at the old schoolhouse to spend the summer with her cousins. Brooding Cameron with his scarred hand, strange Lillias with a fear of bones and Piper, who seems just a bit too good to be true. And then there's her other cousin. The girl with a room full of antique dolls. The girl that shouldn't be there. The girl that died.
Alex Bell's chilling novel is part of the Red Eye series, perfect for fans of Juno Dawson's Say Her Name and Kendare Blake's Anna Dressed in Blood.
Reviews
Lorraine
Frozen Charlotte is a well written book that has the reader engrossed from the very beginning. After Sophie and her friend Jay try to contact her dead cousin, Rebecca, events take a disturbing turn and Sophie ends up going to stay with Rebecca's family on a small Scottish island. They live in an old schoolhouse that has been plagued by accidents and death for many years. Sophie's cousins and the miniature 'Frozen Charlotte' dolls are not as they seem and soon events spiral out of control.  The author has managed to create a thrilling, frightening story that kept me on the edge of my seat and I would highly recommend this compelling story.
352 pages / Ages 12+ / Reviewed by Lorraine Ansell, school librarian
Suggested Reading Age 11+
Caroline
When Sophie and her best friend Jay use a Ouija board app on his mobile phone, the events which follow are darker than either could ever have imagined. Jay asks when he will die and the app responds "TONIGHT..." What starts out as a joke leads to death, mysteries and drama at every turn. This book is a real page turner and the tone is dark and cold which matches the setting of a small Scottish island perfectly. We follow Sophie to her family home where she meets her cousins, each as strange as the last and each hiding dark secrets Sophie needs to uncover before she finds herself the next victim of "Frozen Charlotte". I would highly recommend this to any one who enjoys a good mystery but be warned it could lead to sleepless nights!
352 pages / Ages 12+ / Reviewed by Caroline Mitchell, teacher
Suggested Reading Age 11+
Other titles