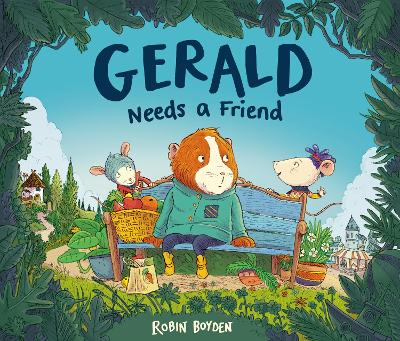 By Author / Illustrator
Robin Boyden
Genre
Friendship
Age range(s)
5+
Publisher
Frances Lincoln Publishers Ltd
ISBN
9780711252097
Format
Paperback / softback
Published
06-04-2021
Synopsis
A fun, heartfelt new picture book about the power of making friends.

Gerald lives alone. He has everything he needs. He spends most of his days in his garden, watering the plants, picking the fruits and vegetables and making preserves for the winter. In the evenings he has dinner at 5, reads 20 pages of his book, has a chamomile tea and goes to bed at 7. Every day is the same, and that suits Gerald just fine. Until one day, when an amazing travelling market comes to town! Gerald has so much fun playing with the two mice that run it that he forgets all about his routine. Can Gerald learn that having everything you need is no fun unless you have someone to share it with?
Reviews
Samantha
Gerald Needs a Friend is a very gentle story about Gerald, a solitary Guinea pig who is very happy in his own company. Gerald keeps himself busy every day with the same simple activities that he can do all by himself.
At the beginning of the story, Gerald is content and thinks he has everything he needs in life. That is until he meets two friendly mice in town, who show him that having everything you need is no fun unless you have good friends to share it with. As the story unfolds, the reader shares Gerald's realisation that sometimes there is room in your life for a little spontaneity.
The artwork is bright and engaging with plenty of detail for talking points. Perfect for Reception and Key Stage One (ages 5-7) as a discussion book about feelings, sharing and friendship. It is the right length for an assembly story, a PSHE resource or a class sharing story book.
Suggested Reading Age 5+
Other titles