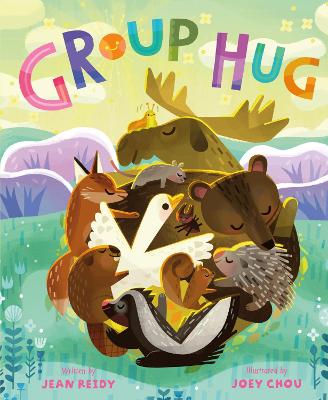 By Author / Illustrator
Jean Reidy, Joey Chou
Genre
Representation & Inclusion
Age range(s)
3+
Publisher
Scallywag Press
ISBN
9781912650842
Format
Paperback / softback
Published
04-11-2021
Synopsis
What do we all need when we're feeling down? yes, that's right, a group hug! A slug is the unlikely hero of this feel-good tale: "You need a hug? I have one," said Slug, "to keep your heart snug!" More and more sad-looking animals arrive, and one by one slug persuades each to join the group hug until a scary looking bear turns up. But who will be brave enough to hug bear?  A wonderful read-aloud book with irresistible rhyme, vibrant nature scenes and huggable animals.
Reviews
Samantha
When Slug comes across a lonely beetle, he knows just what to do. He gives him a big hug -- and then the two friends decide to pass it along. They meet Mouse, who's down in the dumps, Skunk, who's a bit smelly, and more and more animals, until their group hug stretches wide and tall. But when Bear comes along, will there be enough hug to share?
This delightful picture book encourages kindness and goes to show that a hugger finds happiness alongside the hugged! The children in Reception and KS1 were naturally drawn to the simplicity of this book and enjoyed being able to join in with the repeated refrain of the title and the rhyming pattern. The clear message about inclusivity and kindness has been perfect for our assembly to mark the introduction of Anti Bully Week 2021 with its theme - 'One Kind Word.' Another great addition to our library.
Picture book / Reviewed by Samantha Hughes, teacher
Suggested Reading Age 5+
Other titles