Happy Here: 10 stories from Black British Authors and Illustrators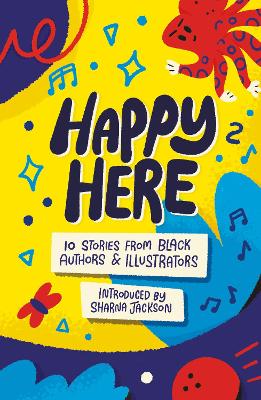 By Author / Illustrator
Sharna Jackson, Dean Atta, Joseph Coelho, Kereen Getten, Patrice Lawrence, Theresa Lola, E.L. Norry, Jasmine Richards, Alexandra Sheppard, Yomi Sode
Genre
Representation & Inclusion
Age range(s)
9+
Publisher
Knights Of Media
ISBN
9781913311162
Format
Paperback / softback
Published
05-08-2021
Synopsis
Exploring themes of joy, home and family through a wide range of genres and styles, each author has been paired with a different illustrator to spotlight Black British artistic talent. With stories by Dean Atta, Joseph Coelho, Kereen Getten, Patrice Lawrence, Theresa Lola, E.L. Norry, Jasmine Richards, Alexandra Sheppard, Yomi Sode, and Clare Weze.
Reviews
Linda
Happy Here is a book containing ten different stories from black authors and illustrators. It has a beautifully written introduction from Sharna Jackson, focusing on the importance of every child being able to see themselves and their lives in the books they read. The tales are as diverse as the characters they represent: these stories are out of this world - in some cases, quite literally! There is something for everyone contained within these pages - from fantasy to sci-fi and adventure stories, with a wide range of genres in between. There's real life, complete with real issues: divorce, disabilities and the transition to secondary school, to name but a few. There's poetry, stories written in the first, second and third person narrative form. There's even a story where you choose what happens next. Happy Here is a true celebration of diversity.
I loved the wide-ranging references to Caribbean and African culture; the food, the music, the legends and the lifestyle. The illustrations leap off the pages and really add to the stories. I thoroughly enjoyed the stories, particularly You're the Boss by E. L. Norris, where you make choices throughout to determine what the character does next.
I found this a really fun and engaging read, which I know my class would enjoy. I will most certainly be adding Happy Here to my Year 5 classroom bookshelf - what an amazing celebration of diversity and a brilliant way to help our students see themselves, their families and their backgrounds in modern British society.
256 pages / Reviewed by Linda Canning, teacher
Suggested Reading Age 9+
Sharon
Happy Here 10 Stories from Black Authors & Illustrators, introduced by Sharna Jackson. This brightly coloured book with its cheerful red page edges stands out on the bookshelf all by itself. Open the pages and you're faced with a collection of colourful stories, poems and illustrations from black creators which leap off the page.
There are 21 contributors to the book with Sharna Jackson writing the introduction. Sharna Jackson introduces the collection by asking "What makes you happy? Seriously happy?" and goes on to explain that the stories of joy and being yourself contained in this book are also the stories we all have in our lives… our happy days or events. She encourages the reader to write their own incredible story and to be happy wherever they are.
My favourite story is Wake by Jasmine Richards. I love the double meaning of the title and without giving too much away, the awakening of a family at a funeral. This could be used to discuss losing a loved one with a key stage 2 class while sensitively unpicking the roles within the family. There's also the supernatural element too, but I won't give everything away. Wumzum's double page spread cartoon style illustration for this story is quite simply stunning and really captures the intensity of the feelings of the main character, Eva.
All the contributors to this book give those children who have a black heritage a great set of role models. They also provide insight to those readers from other backgrounds, to further understand our friends, neighbours and classmates. This book can only make our world much more of a place to be 'Happy Here'.
256 pages / Reviewed by Sharon Porter, teacher
Suggested Reading Age 9+
Other titles