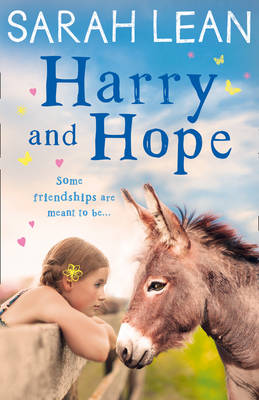 By Author / Illustrator
Sarah Lean
Genre
Animals
Age range(s)
9+
Publisher
HarperCollins Publishers
ISBN
9780007512263
Format
Paperback / softback
Published
12-03-2015
Synopsis
Some friendships are meant to be... A story about family, friendship and belonging, from bestselling author, Sarah Lean.
Hope lives with her artist mum in the Pyrenees. It's always been just the two of them... until Frank - a free-spirited traveller - arrives with his donkey, Harry.  Hope and Frank form a close bond, so it's hard for both of them when Frank decides it's time to move on. Hope questions what she is to Frank. He's not her dad, but he was more than just her mum's boyfriend. Except, there's no name for that kind of pair...
Hope promises to look after Harry and, slowly, another special pair is made - one that makes Hope realise that some friendships become part of you and, even when someone is far away, they are always near to your heart.
Reviews
June
Hope is twelve years old and lives in France with her artist mother, her mother's boyfriend, Frank, and Frank's donkey, Harry. An unusual set up, perhaps, but one in which Hope feels loved and secure, until Frank suddenly leaves and Hope has to take over the care of Harry.
A strong bond develops between Harry and Hope, both rescued by Frank in various ways and then both, in various ways, 'abandoned' by him as well. The story, narrated by Hope, is as much about the relationship between Hope and her mother, as between Hope and Harry. Her mother is artistic, unconventional and perhaps not emotionally suited to the task of bringing up a daughter singlehandedly. She seems to feel that Frank's departure is in the natural order of things and nothing necessarily to get worked up about, and is truly surprised by the depths of Hope's feelings for Frank. They become closer as they struggle to cope with the sad donkey and the changes that are about to happen to their home.
This book will appeal to confident readers, perhaps drawn in by the animal aspect of the story, who will then, like Hope, find themselves exploring a range of emotions - affection, love, anger, sadness, loneliness and, finally, acceptance. Sarah Lean writes effectively as the twelve year old Hope, communicating her determination to do the best for the donkey left in her care.
The ending, though a little neat, is heart-warming and assures the reader of a brighter future for Hope and for Harry, and indeed for Frank.
291 pages / ages 9+/ Reviewed by June Hughes, school librarian
Suggested Reading Age 9+
Other titles