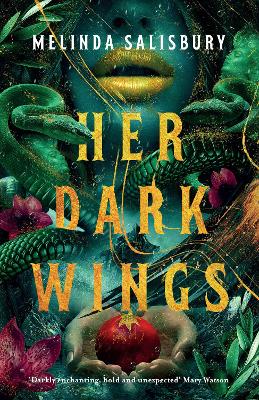 By Author / Illustrator
Melinda Salisbury
Genre
Myths & Legends
Age range(s)
11+
Publisher
David Fickling Books
ISBN
9781788452137
Format
Paperback / softback
Published
07-07-2022
Synopsis
HER DARK WINGS is a potent, passionate modern-day take on the Persephone myth.  On an island, near the entrance to the Underworld . . .Corey and Bree's friendship has always been unbreakable. Or so Corey thought, until Bree betrays her in the worst way possible, and then Bree's sudden death leaves Corey heartbroken and furious.But the Underworld calls to Corey too: enraptured by the passionate Furies, she is taken to the realm of a god who is unyielding, cold and irritatingly arrogant. It will change her, because the more she learns about herself, the more Corey's own power stirs. But can she resist her darkness within?
Reviews
Linda
I simply loved Her Dark Wings! This author seriously knows how to keep her target audience engaged, with her believable characters and world building...
Corey is 16 and has lived all of her life on a tiny island that's in between the mainland and the edge of the Underworld. Needless to say she has been brought up, along with her friends, with superstitions and legends about the Gods. Life is wonderful on the island for Corey, the only thing she can't stand is the tap water! However, things spiral out of control when the two people she trusts the most betray her; Ali her boyfriend and Bree her life long best friend. During an all island festival, Corey meets a boy and for a short time is able to let the devastation of this betrayal go; she feels like her old self, that is until Bree is found dead at the edge of the lake! Do you really get what you wish for?
After this tragic event, Corey begins to feel 'out of it' and only in her garden can she feel relaxed and at ease. She turns to the island's Oracle for help, but it's not what she wants to hear. Then... she is plummeted into the Underworld and finds herself amongst the creatures of the island's myths and legends. Why is she here? What do the creatures of this world want from her? Will this dark and forbidding place change her?
This is a well written fantasy (I love this author's imagination) that will keep many 12+ readers glued to its pages. This darkly imagined world with its otherworldly, sometimes sinister, beings will also be suitable for reading groups and book clubs due to the many discussion opportunities and scope for further reading. I hope there is going to be a follow up to this title as I would love to continue Corey's journey and see how she develops. Her Dark Wings is definitely on my favourites list for 2022.
352 pages / Reviewed by Linda, school librarian
Suggested Reading Age 11+
Other titles