Her Majesty's League of Remarkable Young Ladies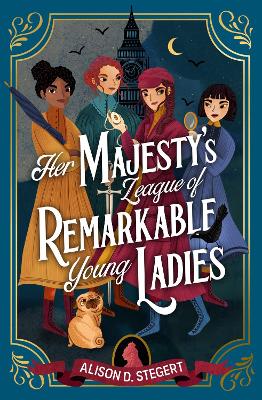 By Author / Illustrator
Alison D. Stegert
Genre
Historical Fiction
Age range(s)
9+
Publisher
Chicken House Ltd
ISBN
9781915026095
Format
Paperback / softback
Published
03-08-2023
Synopsis
Plots, spies and inventors abound in an epic adventure set between London and Paris ... Mischief is afoot, and Queen Victoria is not amused. Her stalker must be stopped. Forget the cavalry - this is a job for Her Majesty's League of Remarkable Young Ladies!
The League's newest recruit is Winifred Weatherby, a feisty girl-genius and gadget-maker. Winnie's creations are remarkable, but is she clever enough to protect the Queen - and achieve her own dream of winning the top prize in Paris for young inventors . . . ?
A debut Victorian romp and the winner of the Times/Chicken House Institution of Engineering and Technology Prize, 2021 A celebration of girls in STEM - and the hurdles they overcome Combines fact and fiction: the novel draws on real-life historical inventions and events. Perfect for readers aged 9 and up.
Reviews
Jo
In an era when young ladies were expected to take pleasure in needlepoint and were instructed in the art of the perfect curtsey, Winnie Weatherby is unique. Uninterested in deportment or poetry, Winnie is preoccupied with inventing; her desire is to win the prestigious 'Petit Prix' at the World Fair in Paris, not to marry a handsome beau. Winnie and her father have created a number of ground-breaking inventions, much to the envy of their rivals, some of whom will stop at nothing to take first prize at the Parisian exposition. When Winnie's father disappears, she realises that she must escape the tedium of the Beacon Academy for Poised and Polished Young Ladies in order to rescue him. And so begins a story of mystery, intrigue, espionage and blackmail.
In Her Majesty's League of Remarkable Young Ladies, Winnie is introduced to the secret world of the League of Remarkable Ladies - a covert group of feisty females who do not conform to the expectations of Victorian society; these are young ladies who are single-minded, inventive, daring and stealthy. The intrigue of this captivating story is ignited when the ladies of the league are assigned a mission, a top secret, very important mission to protect the life of Her Royal Highness Queen Victoria by disclosing the identity of the sinister Mr. Magpie and to solve the mystery behind the threats being made to the life of the Queen.
Winnie becomes the league's quartermistress with an inventing laboratory of her own, a place to indulge in her passion for designing and making gadgets perfect for secret agents. Whilst she is resolute in her determination to thwart Mr Magpie's plans, Winnie's loyalties are divided as she desperately tries to rescue her missing father and to present her inventions at the Paris fair. Will she manage to solve both mysteries?
Winnie is an appealing character - she is smart, loyal, spirited and resourceful. The story itself offers thrills, twists, turns and humour. The characters are bold and richly portrayed; their refusal to conform to society's expectations makes them appealing.
The League of Remarkable Young Ladies prove the fortitude and ingenuity of women; this is a book jam-packed with girl power! It has all the inventiveness of the Alex Rider series and the intrigue and sass of Enola Holmes. It will keep the reader up way past bedtime and will leave them eagerly awaiting the League's next mission.
368 pages / Reviewed by Jo Clarke, teacher
Suggested Reading Age 9+
Jacqueline
Winifred Weatherby is a not so ordinary school girl who suddenly finds herself catapulted into the world of spies. These spies are all young ladies, set up to provide support for Queen Victoria. A mysterious person called The Magpie is causing mischief and possibly putting royal lives in danger.
Her Majesty's League of Remarkable Young Ladies is a fast-paced, rip-roaring adventure, featuring nice clothes and amazing gadgets. The plot is intricate and moves along at a rate of knots with jaw-dropping climaxes and edge-of-the-seat adventure.
The mix of historical detail and young lady spies makes this an incredibly attractive read. I can see Her Majesty's League of Remarkable Young Ladies being very popular with Y6 and above. The cover alone, by Micaela Alcaino, made my daughter want to pick it up and read. 
368 pages / Reviewed by Jacqueline Harris, teacher
Suggested Reading Age 11+
Other titles