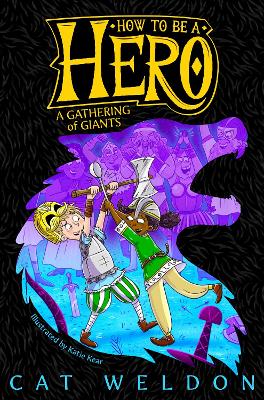 By Author / Illustrator
Cat Weldon
Genre
Adventure
Age range(s)
9+
Publisher
Pan Macmillan
ISBN
9781529046984
Format
Paperback / softback
Published
20-01-2022
Synopsis
Take up the quest in the hilariously epic finale of the How to be a Hero series, A Gathering of Giants, from Cat Weldon, illustrated by Katie Kear.

Unlikely hero Whetstone and banished Valkyrie Lotta are in hiding.

Their quest to find the magic harp strings before Loki, the trickster God, can use them to bring chaos to the Nine Worlds has come to a dead end. And with the evil Valkyrie Glinting-Fire wreaking havoc on earth, nowhere is safe. Especially when Lotta can't control her strange new powers.

So when they overhear that Whetstone's mother, and the second harp string, are in imprisoned in the land of the Frost Giants, Whetstone decides that in order to beat Loki, he's going to have to act like a 'proper' hero and leave the thief he used to be behind.

But with an army of giants, traitorous trolls, brainwashed Valkyries and dangerous long-lost secrets, how can Whetstone and Lotta hope to win when they can't figure out how to be a hero and themselves at the same time?

The explosive finale in this funny, fast-paced series about how to be a friend, what it means to be a hero and just how confusing the Norse Gods really are.
Reviews
Linda
I have adored the How to be a Hero series from beginning to end, and A Gathering of Giants is no exception. The perfect ending to a fantastic series, it sees Lotta and Whetstone face their greatest challenges yet. Like its prequels, it is a quest story packed with action. adventure and fun. The unlikely heroes teach us about friendship, family and the importance of staying true to oneself. A Gathering of Giants ties the trilogy together beautifully and is action-packed from beginning to end, with not a page wasted.
This would be a perfect book for pupils studying the Vikings or for fans of comedy. I would recommend it for pupils in Year 5 and above.
256 pages / Reviewed by Linda Canning
Suggested Reading Age 9+
Other titles