Hurly Burly: Macbeth Mayhem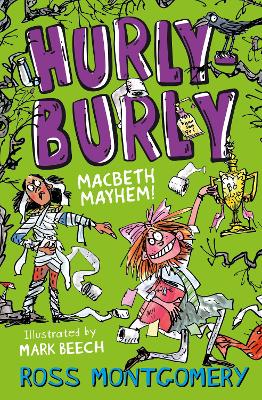 By Author / Illustrator
Ross Montgomery, Mark Beech
Genre
School Stories
Age range(s)
9+
Publisher
Barrington Stoke Ltd
ISBN
9781800900820
Format
Paperback / softback
Published
05-05-2022
Synopsis
Fair is foul and foul is fair ... bestseller Ross Montgomery returns with a laugh-out-loud, perfectly pitched introduction to Shakespeare's Macbeth.
Beth has been looking forward to the Prizegiving Assembly all year. She's won best-behaved pupil two years in a row and is confident that she'll triumph again for a third time.  But as preparations continue for the ceremony, which includes a performance of Macbeth by the drama club, Beth finds out that she's been pipped to the post by not one but two of her classmates, leaving her in third place.  Beth cannot bear to lose, so she channels her inner Macbeth and will stop at nothing to tarnish the reputation of her competitors. But as she puts her dastardly plans into action, she realises that villainy comes at a high cost!
Reviews
Donna
Beth is the best-behaved pupil at her school. She knows this as she has won the coveted prize for the last two years running. She works hard to tidy up and do exactly as she is asked, always offering to help and complete tasks for her busy teachers. So, this year, she is looking forward to setting a school record and receiving the award again...until she realises that Claire and Duncan could also be strong contenders. When the worst behaved girl in school, Robyn, drops the head teacher's planner into Beth's hands, Beth finds that she is tempted to check the final prize-giving list. What she sees starts a chain of events as Beth finds she will do anything to win.
Ross Montgomery has created a madcap adventure that children will absolutely love. The events are so familiar to us all and yet so brilliantly set up and told. Hurly Burly Macbeth Mayhem! is paralleled with Macbeth which makes it a fabulous modern-day twist on the tale to study alongside the original - or an abridged version. Links to Macbeth include behaviour, choices, feelings, friendships, determination, honesty and acceptance.
88 Pages / Reviewed by Donna, teacher
Suggested Reading Age 7+
Other titles