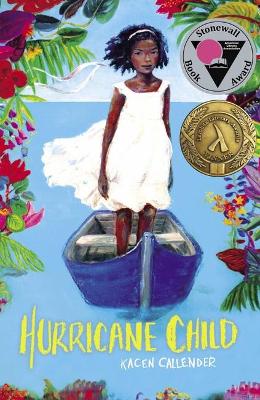 By Author / Illustrator
Kacen Callender
Genre
Representation & Inclusion
Age range(s)
9+
Publisher
Scholastic
ISBN
9780702310218
Format
Paperback / softback
Published
03-06-2021
Synopsis
Winner of the Stonewall Book Award and the Lambda Literary Award By National Book Award winner Kacen Callender, this exquisite novel reminds us that grief and love can open the world in mystical ways. 
Caroline Murphy is a Hurricane Child. Being born during a hurricane is unlucky, and 12-year-old Caroline has had her share of bad luck lately. She's hated and bullied by everyone in her small school on St. Thomas of the US Virgin Islands, a spirit only she can see won't stop following her, and - worst of all - Caroline's mother left home one day and never came back. But when a new student named Kalinda arrives, Caroline's luck begins to turn around. Kalinda, a solemn girl from Barbados with a special smile for everyone, becomes Caroline's first and only friend - and the person for whom Caroline has begun to develop a crush. Now, Caroline must find the strength to confront her feelings for Kalinda, brave the spirit stalking her through the islands, and face the reason her mother abandoned her. Together, Caroline and Kalinda must set out in a hurricane to find Caroline's missing mother -- before Caroline loses her for ever. Perfect for fans of Boy At the Back of the Class, Pocketful of Stars, and Rooftoppers. This arresting debut novel won the Stonewall Book Award as well as the Lambda Literary Award. If you love this story, check out Kacen Callender's National-Book-Award-winning King and the Dragonflies!
Reviews
Jane
We begin this story with 12 yr old Caroline Murphy living with her dad on Water Island in the Virgin Islands archipelago. Her mum left home 1 year 3 months ago, without explanation. How is an adolescent supposed to cope with that, how understand it? How can she possibly learn to live without her ma, as headmistress Miss Joe suggests she should? No, there must be a way to find both her ma and the love she's lost. Perhaps she can enlist help - from the new girl in class, Kalinda (the only friend she's ever had) and from the Woman in Black (whose sporadic appearances and intent is also a mystery).
Either could be emotionally and spiritually dangerous. A girl is not meant to fall in love with another girl, neither is she meant to contact the spirits. But Caroline is hurting; tired and angry with the taunts 'you ain't got no one to hold you… no one to care'. She's willing to risk all, but will it all end in yet more tears when she discovers a new side to her family and Kalinda moves on? Or will she find new love for others?
A story full of questions for young people (Year 5+) who might have questions of their own about gender and relationships.
Suggested Reading Age 9+
Other titles