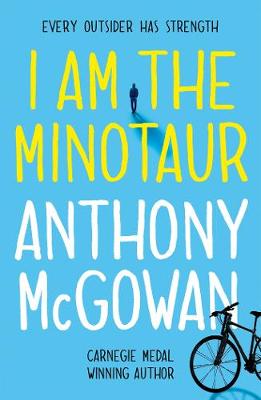 By Author / Illustrator
Anthony McGowan
Genre
Bullying
Age range(s)
11+
Publisher
Oxford University Press
ISBN
9780198494874
Format
Mixed media product
Published
07-01-2021
Synopsis
Matthew is 14 and is struggling to fit in - something that's extra hard when you're taking care of your mum, being bullied at school, and have earned the nickname Stinky Mog because of your poor personal hygiene. On top of all that, he wants to catch the attention of one of the coolest girls in school, Ari. Ari doesn't walk: she floats, like mist on the water. And she's as sporty as she is cool. When Ari's brand new bike is stolen, Matthew spots his chance to make a good impression by getting it back for her... But will he just end up in even more trouble or is Matthew is about to learn that friendship and heroes can be found in unlikely places?  This is a gritty yet touching story of one teenager's struggles with bullying and isolation, written by Carnegie Medal Winning author Anthony McGowan, and is perfect for less-confident readers.
Reviews
Stephen
Matthew - or 'Stinky Mog' as he sometimes gets called - just want to fit in at high school, or at the very least, not be noticed and avoiding school bullies. But this changes when he becomes captivated by the beautiful Ari at school, and when her bike gets stolen, he thinks he has found a way to impress Ari by getting her bike back. Simple surly? Yet the course of first love and stolen bikes never did run smoothly though as Matthew soon finds out...
I Am the Minotaur is an insightful story looking at teenage issues at school but also dealing with home life too and the link between the two, especially that of Matthew who is caring for his mum who has depression as best as he can, and the knock on effect this has on how he turns out for school.
His mum's story is very powerful and ultimately positive, which is great to see and I hope gives a positive message for people and children who have parents with depression. For me, including the school library in the novel as a place of refuge for Matthew was great to read as for many kids, the library is their safe space. Libraries are about more than just books.
McGowan has woven a clever story around school, bullying and parental depression and what Matthew has gone through in his life. It is a very insightful novel and one I feel will be relevant to a lot of young people who are carers for their parents.
136 pages / Ages 11+ / Reviewed by Stephen Leitch, school librarian
Suggested Reading Age 11+
Joanna
Every school has one; every teacher knows who they are; every library has them. I am the Minotaur speaks to that child and also cries out to every other child to go and find them, talk to them, befriend them, because they are not 'minotaurs', they are children who are lonely and who need you.

There is just so much to love about this book. It is absolutely filled with deeper meanings whilst also completely hooking you with the evoking and sometimes heart-breaking narrative of 'Stinky Mog.'

I Am the Minotaur is already another huge success by the acclaimed Anthony McGowan. It tells the tale of 'Stinky Mog', named so because he is from a neglected household where he is a young carer for him mum and thus smells from often not cleaning himself or having clean clothes to wear. His nickname leads to much bullying in school and poor Stinky Mog often avoids class and hides in the school library or behind the maintenance shed. But Stinky Mog has feelings for a girl in his class - Ari - who is really 'cool' and Mog knows he never has a chance with her. When Ari's new bike is stolen, Stinky Mog spots his chance to make a good impression on her and to try and get it back...

This book is a real roller-coaster of emotions. Your heart breaks for Stinky Mog. This books speaks volumes for all the neglected children in society who must get up each day, look after their parents, go to school and come home to more caring for the adults in their lives. Stinky Mog represents neglect but not abuse, he is simply caught in a system where his mum suffers from severe depression and is unable to look after him, but will put on a 'show' for the agencies who look in to offer help. Stinky Mog is the child in the classroom who might look a little underfed, a little unclean, but is quiet and always hands in homework on time. McGowan perfectly captures the bravery and strength these children have and must face every day.

I hope this book will open other children's eyes to children like Mog, inspiring them to be kind and thoughtful, and not to bully children like Mog. I hope this book will help children like Mog reach out for help, but also give them to courage to know they are not alone and things can get better.

136 pages / Ages 11+ / Reviewed by Joanna Hewish, teacher
Suggested Reading Age 11+
Julie
No one sees Stinky Mog at school; over the years he's learnt to go unnoticed. He keeps himself to himself and that's the way he likes it. No one actually remembers that his name is Matthew, and no one knows that he is a young carer for his mum. No one knows that everyday he goes hungry and that sometimes he has to have a wash using washing-up liquid. Things begin to change for Matthew when he starts to notice the beautiful Ari - he quickly becomes obsessed with her. How would Matthew even begin to talk to Ari - she is way out of his league. But when Ari's bike is stolen, Stinky Mog siezes his chance to save the day. What could possibly go wrong?

This book is a triumph. It is beautifully written as Anthony McGowan really brings the harsh reality of Matthew's life to the attention of the reader. Using Matthew as the narrator of the book we really begin to understand the worries, difficulties and challenges he has to face every day. The story is extremely thought-provoking and focuses on the life of a young carer. All of the characters in the story are relatable and believable. The book does cover topics which include anxiety, depression, bullying, poverty and neglect. However, it also has moments of humour and is ultimately hopeful.

I am the Minotaur is part of the new Super-Readable Rollercoaster series from Oxford University Press in association with Barrington Stoke. It is a book for everyone, and it really is 'super readable', especially for those young people who struggle to read or who struggle to find a story that they can really engage with. There are so many features jam-packed into this new series that the books will engage and appeal to all types of readers. The additional content will also help those young people who may have a barrier to reading. The font and layout is in the Barrington Stoke style which is dyslexia friendly. The text is well spaced out and is printed on buff coloured paper. The chapters are short and will leave the reader wanting to read on. However, this series offers the reader so much more and this is due to the fabulous content that has been included at the back of the book. The author's notes give us a real insight into the background of the novel. It also has information about the main themes that are covered in the book, a feature I think that will really engage the reader. I also liked that they have included a comprehensive word list that allows the reader to check their understanding of the text.

This series would work so well with either a reading group or with a student on a one-to-one basis. The style and content is ideal for building confidence and reading stamina. The additional material in the book includes a section asking What do you think? Again, a great feature that will enable lots of discussion opportunities centred around the main themes and issues raised in the book. Another highlight that I thought was so simple yet effective was a page giving suggestions on what to read next. This is great for helping to encourage students to continue with their reading journey. The series is also accompanied by free online teaching resources, again this allows for further exploration of the text.

I am the Minotaur is part of a fantastic new series of books that includes work by award-winning and best-selling writers, Patrice Lawrence and Marcus Sedgwick. Not only are the stories engaging and thought provoking, but the additional content is so well placed and thought out that it will benefit any reader that chooses to read them. I cannot wait to share them with my reading groups at school.

136 pages / Ages 12+ / Reviewed by Julie Broadbent, school librarian
Suggested Reading Age 11+
Other titles