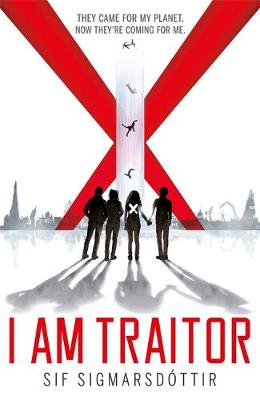 By Author / Illustrator
Sif Sigmarsdottir
Genre
Science Fiction
Age range(s)
11+
Publisher
Hachette Children's Group
ISBN
9781444934472
Format
Paperback / softback
Published
07-09-2017
Synopsis
At the end of the world, who can you trust? The story of one teen's fight against an extra-terrestrial invasion. For fans of Michael Grant, Suzanne Collins and Robert Muchamore.
London has been targeted by extra-terrestrial life and victims are transported to a terrifying other world.
Amy Sullivan is an unwilling hero. She runs until she can't run any more. Then, she is taken.
To have a chance of saving herself, and her planet, Amy will have to put faith in those she fears the most. But what if it means becoming a traitor to everyone she has ever loved?
A modern-day War of the Worlds from one of Iceland's bestselling authors.
Reviews
Ruby
Amy is too young to die. When danger calls, Amy is scared. I don't blame her. Especially when aliens are abducting teenagers from all over the world. She is one of them. Will Amy have to face the threat before it is to late? Join Amy as she embarks on a thrilling journey through space. Read her daily diary as the time goes on in her intergalactic prison. But with people betraying left right and centre, who can you really trust? Sigmarsdottir is an amazing author and her book is even better! This is her first book translated into English, as she is Icelandic.
Suggested Reading Age 11+
Linda
This book has a wonderful opening that makes you want to read on. Sadly, however, I did have issues with the story as it progresses. If you like Sci-Fi, a little romance and aliens (war of the worlds, creepy kind) then you will enjoy this book immensely. If you like kick-ass, strong characters, you will not! The story tells of an alien invasion, this invasion has already taken place; they are taking teenagers, sucking them up in large pipes that fall from the sky. 14 year old Amy Sullivan, our main character, has lost her best friends and her brother to these creatures and gives herself up to be taken as part of a mission to save them and the human race; but when do things go according to plan? The story is told in two styles. A first person narrative where the majority of the story is told, and diary entries from Amy. I think the idea is supposed to be that the diary entries are the present tense and the narrative is the past tense - perhaps to add tension, but it didn't work that well for me because the diary entires seemed to be set directly before the events of the next chapter. So it just became a little annoying and took away the element of surprise for the story. At times I found Amy to be annoying as she seemed to be more concerned about getting her 'first kiss' over the impending doom of the alien invasion, but that's 14 year olds for you!!! On a serious note, there are also quite a few references to the Holocoust,concentration camps, Anne Frank's Diary. I believe the author has been influenced with this tragic event in our history and used this as a writing trick for the readers to get a connection/visualisation with what was going on inside the spaceship. Please don't get me wrong, the book was a good read, the chapters not too long, diary entries short and a times a good pacy plot with the language easy so that the book would be suitable for not just experience readers but also reluctant ones. I believe that if you like programmes like Dr. Who and Torchwood (did also find some similarities in the book from this programme) you will thoroughly enjoy this book. Not sure if there will be a follow up because the end is an end without really being an end, the aliens could return... (sorry a little spoiler). The book has 393 pages, suitable for 12+ readers, slightly younger for a confident reader. Hope you enjoy. Reviewed by Linda Brown, school librarian.
Suggested Reading Age 11+
Helen
This story about visitors from space and alien abductions will have teenaged readers gripped. When spaceships arrive in Earth's skies, no one knows where they have come from and nor can they begin to know what they want. Then teenagers start to disappear, abducted in broad daylight or from their beds at night. No one is safe. When Amy's brother is taken, she is given a chance to rescue him but to do so, she must let herself be taken.... So begins Amy's journey into the unknown where loyalty and hope compete with fear, loss and betrayal. The premise is intriguing and I found myself routing for Amy and her small group of friends, as the tension rises throughout the story to reach an exciting but somewhat gory finale, with an opening for a sequel. A budding romance between Amy and a boy she meets on board the spacecraft definitely has room to run. With its echoes of historical wrongs and questions around the value of life when a life seems to have no purpose, there is a lot to be discussed here. I was also intrigued by Sigmarsdottir's vision of life on board the spaceship, as you travel with the characters taking that step from the 'not knowing' into the revelation of life on board the spacecraft. Here, there are references to concentration camps reflecting the conditions in which the children are kept, possibly to reference that lessons of history are not always learned, but I felt this could have been tackled differently. The author also explores our obsession with longevity through the aliens and quality of life, which will leave the reader thinking. An enjoyable read that gives the reader lots to think about and discuss. I'll be looking out for a sequel, too. 292 pages / Ages 12+ / Reviewed by Helen Long.
Suggested Reading Age 11+
Other titles