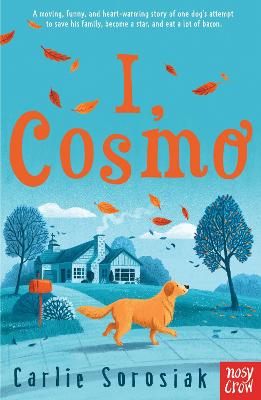 By Author / Illustrator
Carlie Sorosiak
Genre
Animals
Age range(s)
9+
Publisher
Nosy Crow Ltd
ISBN
9781788003872
Format
Paperback / softback
Published
01-08-2019
Synopsis
The story of one dog's attempt to save his family, become a star, and eat a lot of bacon.  Cosmo's family is falling apart.  And it's up to Cosmo to keep them together.  He knows exactly what to do.  There's only one problem.  Cosmo is a Golden Retriever. 
Wise, funny, and filled with warmth and heart, this is Charlotte's Web meets Little Miss Sunshine: a moving, beautiful story, with a wonderfully unique hero, from an incredible new voice in middle grade fiction - perfect for fans of Rebecca Stead and Kate DiCamillo.
"This gem has all the warmth and joy of Homeward Bound, and is making me want to get a golden retriever immediately." - Catherine Doyle, author of The Storm Keeper's Island.  "Cosmo's narration combines wit, heart, stubbornness, and a grouchy dignity, all ably tugging at funny bones and heartstrings alike." - Kirkus (starred review).  "I adored this, a genuine feel-good delight with the most lovable animal narrator I've read in ages." - Fiona Noble, The Bookseller.
Reviews
June
This is the story of family breakdown from the point of view of the family dog. Cosmo, a golden retriever of some 13 years, has lived with Zora and David since the early days of their marriage and was there to welcome their children, Max and Emmaline, into the world.

We meet the family as they prepare for the annual Halloween treat-or-treat outing and it soon becomes clear that all is not well between the parents. Over time, their constant bickering becomes worse, upsetting the whole family. Max is terrified that they will divorce and he and Cosmo will be split up, a fear that he cannot articulate in case vocalising it makes it happen. A visit to a dog training class with Uncle Reggie gives Max an idea - he and Cosmo will train for the dog and human dancing competition, win it, get the filming contract that goes with winning and all will be well with the family.

Cosmo, our narrator, gives many humourous insights to life from a dog's point of view, including the strange greeting rituals of dogs and the importance of always having a secret stash of food. He is also devoted to his family and will do anything to help Max in his attempt to win the competition. The book avoids the obvious neat ending though it does have a happy (of sorts) but realistic one.

This is a lovely read for a confident young reader. Cosmo's perspective on life is funny, Max and Emmaline are sympathetic characters, Uncle Reggie is the kindly other adult that all children need in their lives from time to time, while Zora and David are parents in a difficult situation stumbling around for solutions. Children in similar family situations might find reading this book comforting and reassuring, the main message being that 'We will always be a family. Families grow and evolve'.

272 pages / Reviewed by June Hughes, school librarian
Suggested Reading Age 9+
Other titles