I'm Sticking With You Too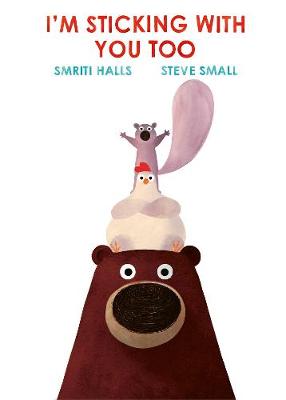 By Author / Illustrator
Smriti Halls, Steve Small
Genre
Friends and family
Age range(s)
3+
Publisher
Simon & Schuster Ltd
ISBN
9781471193200
Format
Paperback / softback
Published
14-10-2021
Synopsis
A joyful tale about acceptance and belonging from the creators of international sensation, I'm Sticking with You!

Much-loved characters Bear and Squirrel are back! And they've found the perfect rhythm for their friendship. Until, that is, Chicken turns up... She wants in! But how will Bear and Squirrel feel about accepting a new friend? Will they come to see that some things work out when we do them together. That two can be good...but three can be BETTER?

This beautifully written, gorgeously illustrated follow-up to the bestselling I'm Sticking with You is the perfect book for examining how, even if new friends might disrupt the rhythm at first, the sense of belonging that friendship can bring has the potential to make your heart sing!
Reviews
Joanna
Following on from the huge success of the first picture book, I'm Sticking with You, this gorgeous rhyming sequel is the perfect continuation of a heartwarming story. The first book, I'm Sticking with You, introduces children to Bear and Squirrel, two characters who build a friendship learning that they need each other in every aspect of their lives.  The sequel I'm Sticking with You Too now sees the addition of Chicken, but can Bear and Squirrel find room in their pair for Chicken?
The story begins with Bear and Squirrel playing along in their merry band. Chicken sees the fun they are having and asks if he can join in. Bear and Squirrel don't want chicken to join and turn their backs on him. Poor chicken thinks this is very unfair, they are not sharing or playing with him, so chicken decides to bombard them with his presence, hoping they will back down and let him play, but Bear and Squirrel just ignore him and claim, "Three is a crowd". Poor Chicken feels very sad and goes off in search of a new band to with, but soon he is tricked and he comes across danger - and Bear and Squirrel step in to help. Three isn't a crowd, they realise, "it has got style, three has got flair". Bear, Squirrel and now Chicken make a new sound, a new beat, a new rhythm and they realise how perfect they all fit together.
Teaching a child the importance of acceptance, diversity and sharing is so important. These books are perfect for an Early Years Environment as they incorporate so many values. The message is so clear and easy for children to understand, with many opportunities to pause the narrative and discuss - how do you think chicken feels here? Why are bear and squirrel not sharing, is that kind? How can the three characters get along better?
With a rhythmic rhyme to the narrative it is such a pleasure to read again and again. Accompanying the narrative are the sublime illustrations. Steve Small (illustrator) has created illustrations that even small children will find easy to follow with the narrative. The expressions on the characters' faces and the body language is subtle but easy for children to point out - chicken feels sad here, squirrel is being mean here.
These books are some of my absolute favourites to return to when teaching children how to play nicely, share and include everyone in our games. An absolute must for an Early Years Environment bookshelf.
Picture book / Reviewed by Joanna Hewish, teacher
Suggested Reading Age 3+
Other titles