If My Dad Were The Tooth Fairy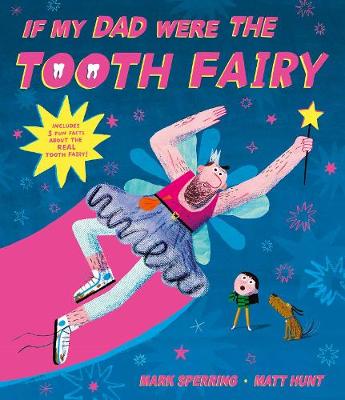 By Author / Illustrator
Mark Sperring, Matt Hunt
Genre
Funny Stories
Age range(s)
3+
Publisher
Simon & Schuster Ltd
ISBN
9781471184482
Format
Paperback / softback
Published
13-05-2021
Synopsis
A hilarious rhyming romp exploring one child's fantasy about her dad having the coolest job ever - the perfect gift for dads this Father's Day!

Have you ever wondered what would happen if your dad quit his boring office job to become . . . the Tooth Fairy?

Wouldn't it be cool if, instead of wearing a plain old shirt and trousers to tap on a computer all day, he zoomed across the sky on his sparkly wings wearing a tutu and tights?

Mark Sperring (author of FATHER CHRISTMAS ON THE NAUGHTY STEP and THE NAUGHTY NAUGHTY BADDIES) has created a riotously funny and fabulous text that is a joy to read aloud, paired perfectly with Matt Hunt's brilliant artwork (illustrator of CHOOSE LLAMAS by Charlie Green and DADDY FARTYPANTS by Emer Stamp).

Perfect for fans of Julia Donaldson.
Reviews
Jessica
It only takes you to cast an eye over the front cover or read the title of this book to already be interested and invested in the story. 'If my dad were the tooth fairy' - What a thought to have! If you aren't already drawn to this book, the image of a hairy, bearded dad wearing a tutu, with wings on his back and a wand in his hand will do the trick!
Mark Sperring is a hugely successful picture book author who, as a bookseller himself, knows exactly the kind of stories to write to make children tick. Every child can immediately connect with this book if they are yet to lose their teeth, have a wobbly tooth, or are lucky enough to have had a visit from the tooth fairy. But who do children imagine the tooth fairy to be? Imagine if it was their dad! It would be amazing… wouldn't it? Perhaps our parents are superheroes just the way they are.
This story sparked a whole host of hilarious discussions with my primary class of 30. "Imagine your granny were the Easter bunny"… we later discovered there is such a book as this! If you're looking to target reluctant readers and writers, especially of the male gender, this is the book for you. This narrative lends itself so well to opening the imagination, asking "what ifs" and creating the most peculiar stories. There is a lot of fun to be had! I am excited to see this series develop as we imagine how different life might be if a family member had the most unusual job.
Picture book / Reviewed by Jessica Bunney, teacher
Suggested Reading Age 3+
Other titles