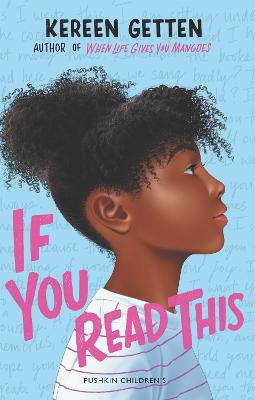 By Author / Illustrator
Kereen Getten
Genre
Bereavement
Age range(s)
9+
Publisher
Pushkin Children's Books
ISBN
9781782692812
Format
Paperback / softback
Published
01-09-2022
Synopsis
When Brie was younger, her mama used to surprise her with treasure hunts around their island town. After she died three years ago, these became Brie's most cherished memories.  Now, on her twelfth birthday, her mama has another surprise: a series of letters leading Brie on one last treasure hunt.  The first letter guides Brie to a special place.  The next urges her to unlock a secret.  And the last letter will change her life forever.
Reviews
Jan
If You Read This is the second middle grade novel by Kereen Getten, as she skilfully whisks the reader off to the Caribbean. The warmth of the interfering family and friends, the light touch of local dialect and description of place bring to the reader the experience of an authentic voice.
Brie receives a box of three letters on her 12th birthday. They were written by her wild, adventurous embarrassing Mum. So starts her own adventure, as Brie searches for the secrets her mother has left for her in the letters. Brie is the central character, however, Aunty Elsa, Julius, Nana and Brim are all fleshed out enough to make them recognisable personalities within the narrative.
The story is tender in its treatment of bereavement and its aftermath, but this is not the entire plot.  Humour is injected into the story arc by the interactions between the family members, as well as the escapade involving Brim – no spoilers!
Getten weaves a magical tale of loss, family and Jamaica. The descriptions of Brim's Island would be perfect to inspire art or creative writing, if this book was used as a class read. Thank you to Pushkin Books for the proof copy of If You Read This. Suitable for Y4+.
192 pages / Reviewed by Jan Blagden, school librarian
Suggested Reading Age 9+
Louisa
When she was alive, Brie's flamboyant mother was always whisking her off on adventures and often making her cringe, too, by dancing or loud singing or other larger than life behaviour. Now she has gone, Brie treasures the memories - even of her most embarrassing behaviour, and misses both her mother and the way her father used to be. He is always at work and, when he doesn't turn up to her 12th birthday party, Brie is distraught. Could it be that he actually doesn't like her, doesn't want to spend time with her?  Meanwhile, at the same event, her absent mother manages to spring a final surprise: a series of letters that set in train one last adventure, with an outcome that even she could not have predicted.
The central theme of the book explores how different people react to grief and the way loss - and memories - can drive a wedge between family members, just as much as bring them closer. But the warmth of the story telling and the hopeful (but not saccharine) ending make it a gentle introduction to the difficult topic of bereavement. Brie is an appealingly relatable main character and the story gathers pace and then resolves itself in a very satisfying way.
I also loved the glowing Caribbean setting which is an essential part of the plot. If you need to increase the diversity of books in your library, don't miss this and keep an eye out for Kereen Getten's earlier debut, When Life Gives You Mangoes.
256 Pages / Reviewed by Louisa Farrow
Suggested Reading Age 9+
Other titles