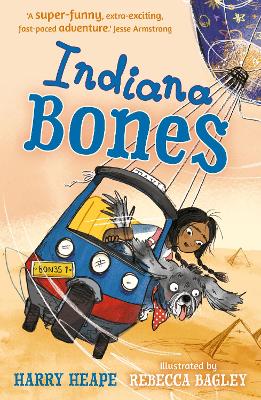 By Author / Illustrator
Harry Heape, illus Rebecca Bagley
Genre
Adventure
Age range(s)
9+
Publisher
Faber & Faber
ISBN
9780571353507
Format
Paperback / softback
Published
03-06-2021
Synopsis
Indiana Bones is a shaggy dog with a difference. He's got superpowers and can sniff out criminals and - with his young friend and owner Aisha - solve mysteries that would flummox the world's more expert detectives!In their first case, they are on the trail of treasure hidden centuries ago by a legendary knight known as The Lonely Avenger, an adventure which takes them all the way to Egypt and the pyramids. A hugely inventive new series from one of the funniest author/illustrator teams in the business.
Reviews
Lia

- Age 9
So far I have read 6 chapters of the book Indiana Bones and I quite like it because the two main characters (Aisha and Indiana Bones ) are about to go to Egypt to find treasure! Unfortunately, a man called Ringo is following them…  I have been reading on to chapter 7 and this book is still very good. Right now Aisha and Indiana Bones are on a ship called 'The Angel' having breakfast. At the moment my favourite part of the story has been when Aisha and Indiana slid off a tiny, wooden ramp with a Ducati, sailing through the air. It was very adventurous!
I recommend this book for children, aged 9, who like adventures, dogs and /or Egypt.
Suggested Reading Age 9+
Other titles