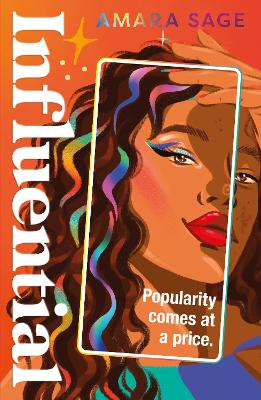 By Author / Illustrator
Amara Sage
Genre
Mental Health & Wellbeing
Age range(s)
14+
Publisher
Faber & Faber
ISBN
9780571377343
Format
Paperback / softback
Published
05-01-2023
Synopsis
Almond Brown has no friends in real life . . . but 3.5 million followers online. A heart-felt, whip-smart deep dive into what it would really be like to be internet famous at 17: a cautionary tale for our time from a writer who has grown up with social media.
Almond is forced into the spotlight when she was just a perfectly filtered bump: her mum has been documenting their family through social media since before she was born. And her family enjoy all the rewards that come from that level of influence. Only, it's not the life Almond would have chosen for herself, and being on a platform all the time has made her anxious and insecure. When the darkest side of the internet begins to haunt her, Almond feels like she's going to lose everything... If only she could see that she has a real-life, too, full of friends and family who love her, and that it could save her.
Reviews
Ruth
Influential is a fantastically on-trend story featuring @thereal_almondbrown, a teenage girl who lives out her apparently perfect life in a carefully stage managed way. This book will appeal to all social media savvy students whose own lives inhabit the world of TikTok, Insta, YouTube et al. However, the more you read, the quicker you discover how different Almond's reality really is. To complicate matters her puppet masters include her beloved but domineering Mum and, with deteriorating mental health, Almond finds it difficult to maintain the facade expected by her sponsors.
In an age where content is (said to be) king, fear of missing out drives scrolling, and so many of our young people are targeted by the current crop of celebrity influencers, this novel offers the reader the opportunity to rethink their views on the lives being portrayed. Previously envied, Almond's world is turned upside down by her gradual awakening to the false narrative she is being compelled to pedal, it's relationship to her worsening mental health and the final straw when her reputation is unfairly impacted by fake news.
Influential contains strong themes and strong language and is best suited to older students. It would be a fantastic book club book for senior school as it would generate great discussion opportunities. This is the first book published by Bath Spa author, Amara Sage, and it is an absolute cracker with a strong yet flawed relatable main character and a contemporary subject which will speak to the target YA audience. The fabulous front cover illustration should also be noted as a shelf eye-catcher.
368 pages / Reviewed by Ruth, school librarian
Suggested Reading Age 14+
Other titles