Isles of Storm and Sorrow: Vulture: Book 3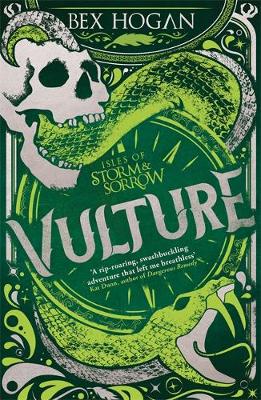 By Author / Illustrator
Bex Hogan
Genre
Fantasy
Age range(s)
14+
Publisher
Hachette Children's Group
ISBN
9781510105874
Format
Paperback / softback
Published
08-04-2021
Synopsis
Power, politics and pirates collide in Vulture, the finale of the epic YA fantasy series The Isles of Storm and Sorrow, perfect for fans of Pirates of the Caribbean.

We are all one misstep away from being the villain...  Marianne has passed the ultimate test required to be a Mage. She is finally powerful enough to reunite the Twelve Isles.  But having exposed herself to the darker side of magic, Marianne is struggling. The magic within her is nearly impossible to control, and she becomes cruel and violent, mercilessly pursuing those who have harmed her in the past, ignoring the pleas of those closest to her to remember what's really important: saving the islands.  Everything she's fought for has come down to this. Will Marianne be able to fulfil her promise to bring peace to the islands when she can't even bring peace to herself?

Conquer the darkness. Control the magic. Save the Isles.
Reviews
Linda
Vulture is the concluding book of the Isles of Storm and Sorrow series and once again the author has written a breathtaking story full of twists and turns that will totally engage any reader of fantasy adventures.
Marianne emerges from the captivity and torture at the hands of Gaius (that happened in book two, Venom) a very powerful mage, with vengeance on her mind. However, coming back from the dead has changed her; she is no longer grounded and has no control over the magic that's inside her. Get in her way and you will be destroyed! Marianne needs to get to her husband Torin and to get him on the throne in order to bring peace to the Eastern Isle. Then she needs to face the man she loves, Bronn; when he sees that she is alive, he will know that she deceived him. Will he ever look at her with love again? Will her friends even look at her the same way again or will they fear her? Either way she needs them and their trust to help her fulfil her promise and bring peace and unity to the twelve isle once again before they are destroyed.
This wonderful book has 432 fast paced pages that are suitable for the 13+ reader. I believe it would also be a great book for reading clubs and intervention groups due to the engaging content of its pages. The Isles of Storm and Sorrow series with its wonderful characters, the unexpected twists and turns has been an amazing read and I'm a little sad that its ended. Get it and enjoy, you will not be disappointed.
432 pages / Ages 13+ / Reviewed by Linda Brown, school librarian
Suggested Reading Age 11+
Other titles