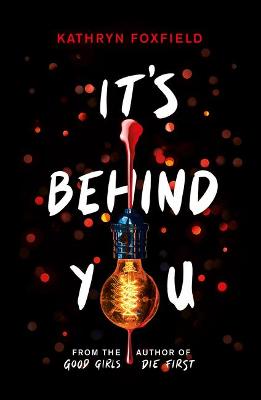 By Author / Illustrator
Kathryn Foxfield
Genre
Suspense & Thrillers
Age range(s)
14+
Publisher
Scholastic
ISBN
9780702302770
Format
Paperback / softback
Published
01-07-2021
Synopsis
The bestselling author of Good Girls Die First is back with an entertaining, high-octane and read-in-a-single-sitting new thriller. Welcome to the reality game show that'll scare you to death! Have you got what it takes to last the night? Five contestants must sit tight through the night in dark and dangerous Umber Gorge caves, haunted by a ghost called the Puckered Maiden. But is it the malevolent spirit they should fear... or each other? As the production crew ramps up the frights, secrets start to be revealed... these teenagers have hidden motives for taking part in It's Behind You! and could some of them be... murder? It's Most Haunted meets I'm a Celebrity Get Me Out of Here. Perfect for fans of Holly Jackson and Karen McManus. Knife-edge tension and twists you won't see coming...
Reviews
Abi

- Age 11
It was amazing, perfect for best friends to read at a sleepover at 3am!
Suggested Reading Age 14+
Linda
If you like a short but scary story, that keeps you on the edge of your seat and guessing who did it until the very last pages, then this is the book for you... It's Behind You is a reality TV show that's said to scare you to death. Would you enter it? Spend a night in a haunted place, survive the night and claim £10,000, now would you enter? It's easy pickings, right? Five contestants are chosen to enter the Umber Gorge Caves, which are said to be haunted by the ghost of The Puckered Maiden. However, as the night progresses, secrets are revealed and the frights and scares become very real. Has one of these contestants got the motive to commit murder?
The plot of this story is not really pacy, but slow and engaging as the teenagers' personalities are disclosed to the reader along with their secrets, making it suitable for the 13+ reader, confident/non confident who are not afraid of things that go bump in the night. Therefore, not for the nervous reader. The story would be great for book clubs and for intervention groups as it's completely engaging with lots of discussion points. This is the second book by this talented author, who really knows how to build suspense and create an unsettling atmosphere; she clearly deserves a place in any school library as her books will be very popular.
352 pages / Reviewed by Linda Brown
Suggested Reading Age 14+
Other titles