Jasper and Scruff: Take A Bow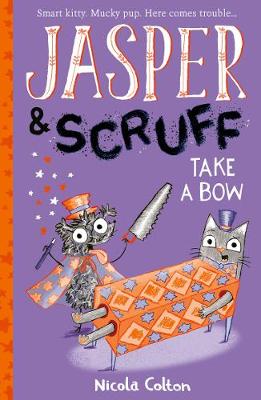 By Author / Illustrator
Nicola Colton
Genre
Friendship
Age range(s)
5+
Publisher
Little Tiger Press Group
ISBN
9781788952545
Format
Paperback / softback
Published
04-02-2021
Synopsis
Smart kitty. Mucky pup. Here comes trouble...
When Jasper and Scruff hear about the Reach Fur the Stars talent show they know it's their big chance to shine. But while Scruff hopes his magic act will dazzle the judges, Jasper wants the limelight all to himself.
And they're not the only ones who want to get their paws on the Grand Prize - the Sophisticats have a sneaky plan to steal the show. Will Jasper and Scruff team up in time to stop the cunning cats?
A laugh-out-loud tale of friendship with colour illustrations, perfect for new readers moving on from picture books, and fans of CLAUDE, RABBIT AND BEAR, SQUISHY MCFLUFF and HOTEL FLAMINGO.
"Adorable illustrations, snappy dialogue and outrageous puns make it the cat's pyjamas" - Guardian
Reviews
Lauren
Jasper and Scruff are the unlikely friendship between cat and dog, one clean and one rather dirty! Take a Bow is the new adventure from Jasper and Scruff and their friends.
A talent show is coming to Snootington Town Hall and the whole town is attending to see if they can win the grand prize of a week on stage with Marvello the Magnificent! With alpacas on unicycles, singing dogs and dancing gorillas, the whole town is in attendance, including Lady Catterly and the Sophisticats.
Only a few manage to get into the final including Lady Catterly, who seemed to have the most beautiful singing voice. However, on the day, everyone's acts are tampered with; Audrey the Alpaca fell off her tightrope and roller blading tigers ended up in the judges laps! Even Jasper and Scruff had their magic act ruined, however Lady Catterly sung beautifully and won the competition. It isn't until her first performance the Jasper and Scruff take matters into their own hands and reveal who Lady Catterly really is!
The story explores Jasper and Scruff's unlikely friendship, as well as jealousy when others do well, how to overcome this, and working as a team. The story is simply written and would be great for confident readers at the end of Key Stage 1 and emerging Key Stage 2.
The text is not overwhelming and the story is fun and full of actions and the pictures are humorous and bring the story to life.
92 Pages / Reviewed by Lauren Maidman, teacher
Suggested Reading Age 5+
Other titles