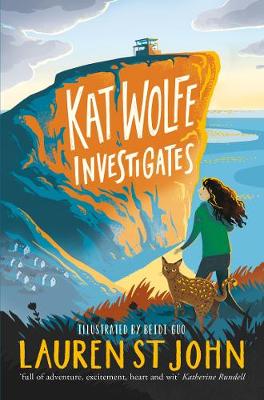 By Author / Illustrator
Lauren St John
Genre
Mystery & Detective
Age range(s)
9+
Publisher
Pan Macmillan
ISBN
9781509871223
Format
Paperback / softback
Published
17-05-2018
Synopsis
Join brave Kat Wolfe and her animal sidekicks in this first mysterious adventure filled with friendship, freedom and a fierce wild cat!

Kat Wolfe loves her new home in idyllic Bluebell Bay, especially as it comes with a resident wildcat. But when she starts pet-sitting for pocket money, she finds that beneath the town's perfect surface lie some dark and dangerous secrets . . .

After a pet owner vanishes from his clifftop mansion, Kat turns to her new friend, Harper Lamb, for help. What began as mystery-solving holiday fun quickly turns deadly for Wolfe and Lamb. Can they count on their unruly animals to save their lives?

Kat Wolfe Investigates is the first in a compelling middle-grade mystery series from bestselling author Lauren St John. Continue the adventures in Kat Wolfe Takes the Case.
Reviews
Lola

- Age 10
I love animals and mysteries so this book is the perfect combination! Kat needs to save Raman while looking after a horse, a bird, a cat and a dog. Read the best book you have ever read, times it's awesomeness by the biggest number you know and-poof!-you have Kat Wolfe investigates!
Suggested Reading Age 9+
Emily

- Age 10
I liked this book because it is very mysterious... When Kat and her mum move to Bluebell Bay ,Kat starts up a pet-sitting agency. But something feels strange when she goes to feed Bailey, Ramon Corazon's yellow-crowned Amazon parrot. Something mysterious...
Suggested Reading Age 9+
Fiona
This is the first Lauren St John book I have ever read as I am not normally into mysteries, but I thoroughly enjoyed it. Kat and her Mum move to Bluebell Bay on the Jurassic Coast from London, in search of a better life. Her Mum takes over the local vet surgery and Kat decides to start pet sitting as a way of saving her own money. When she takes on the responsibility of looking after Bailey, the Amazonian parrot, for his owner she stumbles into some trouble. With the help of her new friend and some amazing animal characters she sets out to solve the mystery unravelling around her. The book is a really intriguing and will really appeal to readers age 8+, whether they like mystery and adventure or just love animals. 352 pages / Ages 8+ / Reviewed by Fiona Dalu-Chandu, teacher.
Suggested Reading Age 7+
Ruby

- Age 10
When Kat Wolfe, daughter of Dr Wolfe, a vetinary surgeon, moves to bluebell bay, she seeks a new adventure. She decides to open a pet sitting agency in her mum's practice, but when one of her first customers mysteriously disappears, it's up to Kat and new best friend, Harper Lamb, daughter of a successful scientist, to crack the case. With Kat's quick-witted mind and Harper's epic hacking abilities, there sure to do it in no time, right? This FANTASTIC book is full of, well, mystery. I'm sure anyone over the age of 8 would find this book sharp and cunning, with a rating of 5/5, it will BLOW YOUR MIND, literally!
Suggested Reading Age 9+
Other titles