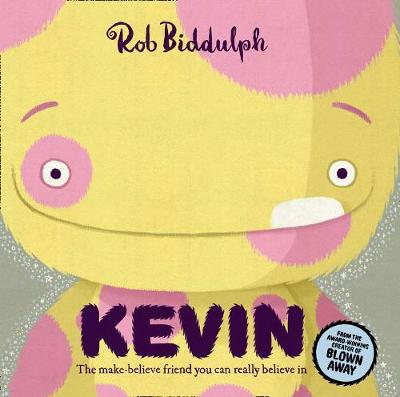 By Author / Illustrator
Rob Biddulph
Genre
Friends and family
Age range(s)
5+
Publisher
HarperCollins Publishers
ISBN
9780008207410
Format
Hardback
Published
10-08-2017
Synopsis
A glorious picture book story all about one boy, one imaginary friend named Kevin, and one very special friendship... from the creative genius behind the #DrawWithRob phenomenon and the bestselling and award-winning Blown Away!
Uh-oh - Sid Gibbons is in trouble again! Time to think fast...  When Sid makes yet another mess, and his mum is at the end of her patience, Sid does what every quick-thinking kid would do - he blames it on his big, furry, vanilla-and-pink friend Kevin!  And while it seemed like a good idea at the time, Sid gets an unexpected surprise when he finds out that Kevin and his world might not be so imaginary after all - and while his friend might be make-believe, his feelings are very real.
From the bestselling and multi-award-winnning Rob Biddulph, creator of the internet phenomenon Draw With Rob. As seen on YouTube, FaceBook, Instagram, CBeebies and TV news everywhere, and the Waterstones Book Prize-winning Blown Away!!  This is the perfect story for boys and girls of 4+, and anyone who's ever needed a friend, to share with their families! so step up and enjoy Rob Biddulph's trademark warm-hearted humour.
Reviews
Sue
Kevin is Sid's friend - his make-believe friend - who he likes to blame whenever things go wrong. However, when Sid finds Kevin is not-so-imaginary, he realises his actions have been selfish and unkind and knows he has to put things right both with Kevin and at home. Kevinis a story with an important message. Any adult who spends time with children will recognise the things that Sid is doing and many will recognise the instant denials that come with them. Sid's efforts to put things right show how important it is to take responsibility for your actions and to make amends when things go awry. The book also explores the world of imaginary friends. Sid moves from the sepia tones of the real world to the rainbow hues of his imagination as he meets Kevin and his friends. The values of true friendship - whether the friend is real or not - are also explored! Beautifully illustrated, each spread is a joy to explore. Characters from Rob Biddulph's other books - like Odd Dog and Penguin Blue - can be found with many new characters. The rhyming text is detailed, exploring the actions and emotions involved more fully. No doubt this will join Biddulph's other books as classroom and home favourites! Picture book / Ages 5+ / Reviewed by Sue Wilsher, teacher.
Suggested Reading Age 5+
Rhiannon
A beautifully illustrated, well thought-out picture book by the talented Rob Biddulph. The detail in the images is incredible, you could spend a good amount of time just admiring the end papers. Sid Gibbons - a mischievous child - invents a pink and vanilla friend who Sid proceeds to blame for all his misdeeds. However, Kevin is brought to life in a riot of colour and after a series of unfortunate events, shows Sid the error of his ways, uniting the pair and improving the lives of everyone involved. This book is fantastic for inspiring imagination and also an excellent way of discussing feelings and friendship with smaller children. There is quite a lot of text for a picture book but the almost musical rhyme scheme makes it easy to digest for 5-7 year olds everywhere. Overall a real winner! 28 pages / Ages 5+ / Reviewed by Rhiannon Cook, School Librarian.
Suggested Reading Age 5+
Kyle
Kevin is a beautifully written book which was an absolute pleasure to read. Rob Biddulph, author of Blown Away, has managed to create a text that is not only entertaining but also shares a valuable lesson for children. I enjoyed reading it myself but also with my class of Y1 children. The story revolves around Sid Gibbons, a little boy who finds himself in a touch of hot water after his mother catches him making bad choices once again. Rather than admitting the truth and taking the punishment as he should, he instead blames it all on Kevin....a clearly made up individual. Sid's mum does not believe this and sends him to his room. From here, Rob Biddulph uses a range of wonderful vocabulary to take the reader on a journey though an imaginary world of bright colours and decorations. It is here that Sid soon learns a valuable lesson and starts to make amends for his actions. I liked using this book with my class not only for the use of language, but also for the moral lesson that it taught along the way. I believe there would be opportunity for a mini unit of work to be made alongside this text with links to other areas of the curriculum, especially to teach PHSE skills around honesty and respect. The manner in which the book is set out allows you to build it up as you read it, stopping at points to conduct work around the characters of Sid, mum and eventually Kevin. You could also use it to build on inference skills during whole class discussions, dramatizing Sid's arrival into the imaginary world and describing the creatures he finds. A unit of work could be developed up to the children writing the book 'Sid', where they take the viewpoint of Kevin and how he makes up a friend called Sid. Alternatively, the children could easily innovate the text by creating their own creatures through a selection of lessons based around description e.g. word banks, paintings in art etc. As mentioned, detailed art work could be planned alongside it as well as music to accompany the new imaginary world - and even DT could be tied in through the creation of hand puppets. I would recommend this book to all KS1 teachers and to any parents who enjoy a good picture book. Top stuff. Picture book / Ages 5+ / Reviewed by Kyle Matravers, teacher.
Suggested Reading Age 5+
Other titles