Kicked Out: A Boy, Everywhere story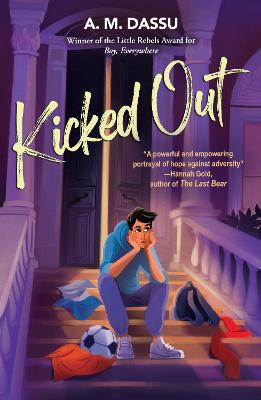 By Author / Illustrator
A. M. Dassu
Genre
Representation & Inclusion
Age range(s)
11+
Publisher
Old Barn Books
ISBN
9781910646892
Format
Paperback / softback
Published
19-10-2023
Synopsis
This sequel to Dassu's award-winning debut, Boy, Everywhere, finds Ali and Sami living their dream, playing football for the school team and hanging out in their friend Mark's new luxury pool. But money goes missing and racism rears its ugly head when their friend Aadam is accused of the theft. Can the boys prove Aadam's innocence, keep their friendship - and help fight Aadam's threatened deportation? Can Ali navigate his emotions and stay focused now his dad is back on the scene and his half-brother has joined his school? A powerful story about friendship, being an ally and finding your place in the world.
Find out more from author AM Dassu:
Reviews
Eileen
Occasionally as a reader you come across characters you really care about in a book, characters so realistic and relatable you find yourself wondering and worrying about what happens to them when the final page is turned. Sami, Ali and Mark from Boy, Everywhere are those characters.
Kicked Out picks up their story (but fills in just the right amount of detail to read perfectly well alone too). Narrated by Ali this time, the friends appear to be living their dream. Mark's mum won the lottery and the boys enjoy hanging out in the pool of his new luxury house and playing football together. Sami's family have taken in Aadam, an unaccompanied minor claiming asylum away from his wartorn country who pays his way taking on odd jobs, including as a gardener for Mark's mum. But when money goes missing, Aadam is accused of the theft by Mark's mum's new boyfriend; an accusation which threatens to jeopardise his asylum claim. The friends are determined to do whatever it takes to prove Aadam's innocence, clear his name and save him from deportation.  Ali is facing enormous challenges of his own, though, when his estranged dad moves back to the area, bringing his new family with him and the half-brother he doesn't know starts at his school. Can he sort out his conflicting emotions and still be there for Aadam and Mark?
Kicked Out is a sympathetic exploration of family, identity and coercive control, an acknowledgement that families come in all shapes and guises but that what matters is your own self-worth and the people you choose to surround yourself with. Dassu paints an overwhelmingly positive picture of masculinity and male friendship, too: these boys are relatable, emotionally honest, each vulnerable in their own way but always there for each other through tough times, standing up for what they know is right no matter what hurdles are put in their way.
At the same time, Kicked Out is a pacy, emotionally powerful page-turner, which unpacks important issues around casual racism and the refugee experience, exploring unjust government policies around the asylum process in a way which is perfectly pitched for its audience. It shines a spotlight on the human lives behind the headlines and statistics. Despite being written eight years after Boy, Everywhere, little has changed with regard to negative and dangerous media reporting and politicians continue to use refugees to further their own agendas.
Dassu's central message is that we can all step up and do something which will make a real difference. Timely and topical then, Kicked Out is the perfect book to start that conversation, with an appendix of 'What Can We Do?' ideas which will inspire classroom discussions and empower school action groups. It is the perfect readaloud for upper KS2 and lower KS3; showing that prejudice and injustice can be overcome with hope, resilience and compassion. It will resonate with all kinds of readers. Football fans will enjoy the game being portrayed as a force for good, uniting communities and championing change.
Add Kicked Out to school library empathy collections, ensure staff as well as students read it, talk about it and act on it. Full of heart and hope (and football), this is a book to increase understanding and a book to change lives.
256 pages / Reviewed by Eileen Armstrong, school librarian
Suggested Reading Age 11+
Other titles