Kitsy Bitsy's Noisy Neighbours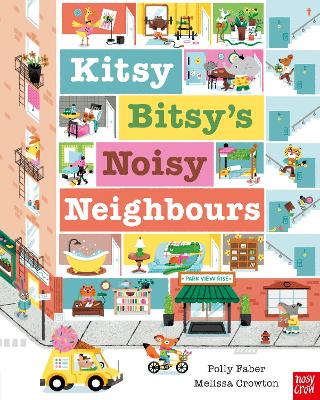 By Author / Illustrator
Polly Faber, illus Melissa Crowton
Genre
Friends and family
Age range(s)
5+
Publisher
Nosy Crow Ltd
ISBN
9781839943669
Format
Hardback
Published
04-08-2022
Synopsis
A riotously funny picture book about kindness and community.  The animals of Park View Rise all love their high-rise home. It's peaceful, calm and quiet - no one here would cause a riot... But when Honky Tonk sings much too loudly, Smart Alec's DIY goes all wrong and Sugar Plum's freshly baked treats are ruined, well, all hell breaks loose! Luckily, Kitsy Bitsy arrives just in time to teach her neighbours about the importance of kindness... and an enormous cake brings everyone together for a party!
Roll-off-the-tongue rhyming text by Polly Faber and bright, lively artwork by Melissa Crowton combine in this comic, timely tale. Readers can make their own Good Neighbour Cake using the recipe at the end of the book!
Reviews
Nathan
Kitsy Bitsy's Noisy Neighbours by Polly Faber is a funny, lively picture book about a set of animal neighbours living in a modern block of flats, Park View Rise. The rhyming, comic-style story makes it an enjoyable, effortless read. The funny character names and relatable hobbies / jobs will have the children engaged and laughing from the first page!
All is peaceful and still at Park View Rise until Honky Tonk and Hunky Dory's singing scales and weight lighting antics travels through the block of flats causing a great commotion and a riot on the roof.  Kitsy Bitsy soon arrives to resolve peace and guide the neighbours to work together.
The characters show great community spirit and care to make Park View Rise the happiest friendliest place to live once more. This rhyming story along with bright and bustling comic illustrations by Melissa Crowton makes this the perfect story for younger readers. I would highly recommend this book for any reception/ Year 1 class and can't wait to share this funny, brilliant book in September with my school.
Picture Book / Reviewed by Nathan Cox, teacher 
Suggested Reading Age 3+
Jane
This large hardback picture book has the feel of a Richard Scarry classic, possibly due in part to the illustrator's US background. However, the characters created by London-based author Polly Faber could live in any city tower-block - wherever neighbours get on and fall out, disturb one another and create community together.
The rhyming text combined with colourful, expressive pictures describe those interactions with great humour, as the exertions of top-floor residents (Honky Tonk and Hunky Dory, flamingo and beaver respectively) impacts upon an array of residents below from Tippy Toes the Elephant to Fiddle Faddle the croc. Time for Kitsy Bitsy, to do her stuff: resolve the disputes and restore order to the whole disgruntled mob. With peace finally restored and night falling, they can all enjoy a celebratory party before retiring to their separate apartments for a quiet night in.
Kitsy Bitsy's Noisy Neighbours is a fun book with plenty of entertainment value, whether read aloud in class or at home with family.
Picture Book / Reviewed by Jane Rew, school librarian
Suggested Reading Age 3+
Other titles