Laura Marlin Mysteries: The Secret of Supernatural Creek: Book 5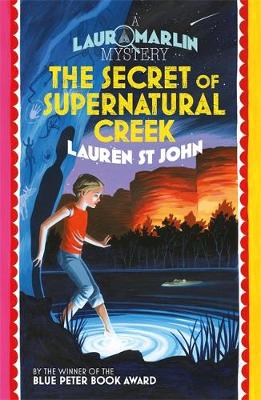 By Author / Illustrator
Lauren St. John
Genre
Adventure
Age range(s)
9+
Publisher
Hachette Children's Group
ISBN
9781510102644
Format
Paperback / softback
Published
10-08-2017
Synopsis
Eleven-year-old ace detective Laura Marlin is back for her next exciting adventure in the fifth mystery from award-winning author Lauren St John. After helping to capture Mr A, the notorious leader of the Straight A gang, Laura Marlin is looking forward to taking a break from mysteries and relaxing on her school trip to Australia. But then Mr A escapes from prison and suspicious accidents start happening around Laura. Laura is sure that Mr A is out to get revenge on her. But will she be able to convince her friends that the danger is real before one of the accidents becomes deadly?
Reviews
Believing her number one enemy, Mr A, to be behind bars, Laura Marlin is thrilled to be setting off on a school trip to Australia in the latest of the Laura Marlin Mysteries: The Secret of Supernatural Creek. However, bizarre happenings down under and strange coincidences make Laura start to wonder whether she is a safe as she thinks.

The Australian Outback is vividly brought to life in Laura's fifth adventure. Tackling environmental issues as well as ones of friendship and loyalty, this is a gripping adventure with plenty to think about. Although part of a series containing references to previous mysteries, you don't need to have read them all to enjoy The Secret of Supernatural Cove.

Strong, courageous and intelligent, Laura is used to facing danger and challenges. Appearances prove deceptive in more than one case in this story and she is forced to think about making judgements and what friendship really means.

The book also allows the reader to discover plenty about the Australian outback and the creatures and people which live there. An integral part of the story, this information is cleverly used to add to the tension and excitement of the plot. A great read for those who enjoy a rollicking adventure!

208 pages / Reviewed by Sue Wilsher, teacher.
Suggested Reading Age 9+
Emma
When 11-year-old ace detective Laura Marlin and her classmates are treated to an unexpected visit to Australia, Laura is just as thrilled as the rest of them. But then strange phenomena and odd coincidences start to occur and Laura can't shift the sensation that something isn't right... But with her arch nemesis Mr A safely behind bars, what has she got to worry about...?
In The Secret of Supernatural Creek, Laura Marlin faces some real challenges that make this a cracking adventure, as well as explores what friendship and loyalty mean. There is also, as we've come to expect from Lauren St John's books, a strong environmental theme that flavours the entire adventure and which absorbs the reader in the smells, colours and sights of the Australian Outback.
As the story progresses, the dangers mount and the difficulties Lauren faces grow but she never really loses sight of what makes a good friend - and her concern for and interaction with the environment add another layer to the story. This is a great addition to the Laura Marlin Mysteries series.
208 pages / Reviewed by Emma Jones.
Suggested Reading Age 9+
Caroline
Laura Marlin has yet another daunting mystery to solve in this the fifth book in the series. Our super sleuth has successfully helped to put the notorious leader of the Straight A gang behind bars and is looking forward to a school trip with her friends to Australia. But trouble starts almost as soon as they arrive in Melbourne and, when Laura finds out that Mr A has escaped from prison, she begins to suspect that they are all in danger. All she has to do is convince Tariq, her long suffering friend and assistant, but he seems strangely unwilling to get involved.

The adventure becomes more and more dangerous as the trip tours the Northern Territory and the children come face to face with deadly redback spiders, saltwater crocodiles, and an eastern brown snake, the second most deadly snake in the world. The oppressive heat, drought conditions and the imminent storms of the beginning of the wet season, all add to create atmosphere and tension, and draw a convincing setting of the Australian outback as a backdrop to the whole adventure.

The mystery deepens with the discovery of a uranium mine, the theft of a book about beekeeping, and asteroid mining, but how are they all connected?

Laura Marlin is a feisty, strong and determined heroine who values her friends but also cares about protecting the environment. This is an exciting, fast-paced page turner which will appeal to fans of Enid Blyton's Famous Five as well as the Lady Most Unladylike series by Robin Stevens and The Sinclair's Mysteries by Katherine Woodfine.

208 pages / Reviewed by Caroline Gosden, school librarian.
Suggested Reading Age 9+
Other titles