Let's Get Ready for School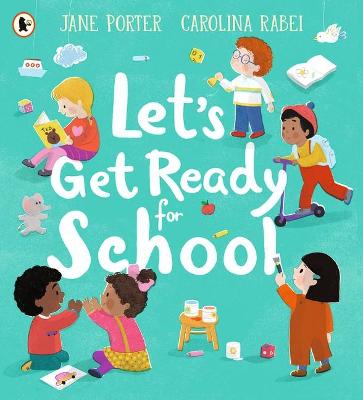 By Author / Illustrator
Jane Porter (Illustrator), Carolina Rabei (Illustrator)
Genre
Early Skills
Age range(s)
3+
Publisher
Walker Books Ltd
ISBN
9781529502343
Format
Paperback / softback
Published
05-08-2021
Synopsis
Starting school can be a great adventure, but it can make you feel a bit nervous too. The perfect book to reassure any new school-starter.

Jane Porter answers all of these questions and more in this warm, witty and reassuring book for young children that explores everything they'll need to know before starting school. Marley, Maya, Theo, Akiko, Ella and Zakir are all getting ready to start school. Why not come along with them and see what it's like? Illustrated with charming characters by Carolina Rabei, this is the perfect introduction to joining a new class.
Reviews
Catherine
There are many books out there about starting school but I think that this is one of the best that I've seen. The illustrations are great - really colourful and they will be relatable to pre-schoolers. There's a lot to see in the pictures - parents could ask their child to find certain things on the page. It's the sort of book you could read over and over again and also after the child has started school as they will find it so relevant.
This book covers pretty much everything about starting school: • School uniform • Why you have to go to school • Different ways of travelling to school • A time to talk and a time to listen • Different types of children you may meet.
I like this book because it talks about feeling nervous. It even tells the child that the teacher may be feeling a little worried and how it is okay to feel that way - it's normal. There's a page on useful things to learn before you start school, such as putting your coat on independently. I really liked two particular lines in the book - 'It's OK if you cry a little bit when you say goodbye - it just means you are feeling a lot of love.' I also liked the line ' Sometimes children might be mean - but often it's because they are not feeling good about themselves.'
The book does not tell the child what to do if someone is mean, but this could be a good prompt for parents to talk it over with their child. The worry page is also a good idea so that children can voice their concerns and worries to their parents. I would highly recommend this book for anyone who has a child due to start school within the next few months. It really will put their mind at ease and it covers everything.
Picture book / Reviewed by Catherine Kus, teacher
Suggested Reading Age 3+
Other titles